China vaccines: Authorities probe babies' deaths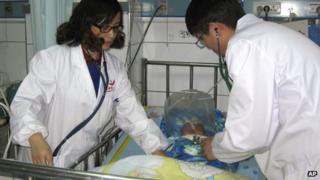 The number of babies who have died in China after being vaccinated against hepatitis B has risen to eight, state news agency Xinhua reports.
A newborn baby died on Monday in a hospital in Sichuan province after being vaccinated on Sunday afternoon.
Chinese health experts are looking into the deaths of several babies who received the vaccination in a government immunisation programme.
Investigators have been sent to the company that produces the vaccines.
The investigation was launched after babies were reported to have died shortly after receiving the hepatitis B vaccine made by BioKangtai, a drug manufacturer in the southern city of Shenzhen.
Four babies reportedly died in the southern province of Guangdong, although one was said to have died from pneumonia, reports the Associated Press (AP) news agency.
The National Health and Family Planning Commission reported that two babies in Hunan province and another in Sichuan had also died in a similar way.
One more child in Meishan City, Sichuan, died on Monday, less than 24 hours after receiving a hepatitis B vaccine made by a different company, Xinhua said.
Beijing Tiantan Biological Products Co Ltd is a major supplier of free hepatitis B vaccine.
The Chinese authorities suspended the use of the BioKangtai vaccine on Friday, Xinhua reports.
BioKangtai says it has complied with safety checks and blamed the deaths on "coincidental diseases".
Many Chinese are sceptical about the government's safety assurances due to numerous cover-ups in the past such as an outbreak of the Sars virus in 2002, observers say.
Hepatitis B is a chronic liver infection that is spread through the blood or bodily fluids of infected people. It can cause liver inflammation and jaundice.