China media: New US ambassador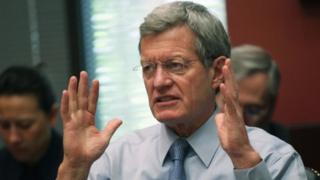 China media urge Max Baucus, who is expected to be nominated as Washington's ambassador in Beijing, to encourage mutual trust between the US and China.
Democrat Max Baucus, 72, is currently chairman of the Senate Finance Committee.
The Global Times says: "It is too early to make comments on the new ambassador... But a breakthrough on mutual trust is what is absent from Sino-US relations. It needs to be included within the next ambassador's agenda."
The paper, however, acknowledges Mr Baucus's familiarity with China.
"[Mr] Baucus does not have a widely-known name across the Pacific Ocean," it said. "But [he] has rich experience with China, having visited China eight times and hosted Chinese trade delegations in Washington and Montana."
Ta Kung Pao, a Beijing-backed Hong Kong newspaper, says the new ambassador has "a heavy load and a long road" ahead to promote the "new type of power relation between China and the US".
Shi Yinhong, a professor of US studies at Renmin University of China, tells China Daily that "it remains to be seen" whether Mr Baucus will contribute to eliminating trade disputes between the world's two largest economies.
"[Mr] Baucus should avoid misunderstandings in the future when it comes to China's strategic interests, and play a constructive role in developing the Sino-US relationship, not the opposite," Mr Shi adds.
India diplomat row
In domestic news, Xinhua news agency reports that a civil servant in the southern city of Haikou, Hainan province, has been sentenced to life imprisonment for defrauding more than 300 people of money and property in a span of four years.
A public servant in a district government, the civil servant, surnamed Chen, received 33.18 million yuan ($5.5m; £3.3m) from those he defrauded between 2008 and 2012, the court said.
He later spent all of the money on lottery purchases, online gambling and personal expenses, the report adds.
The Haikou Intermediate People's Court ruled that Chen was guilty of fraud as he deceived people using false information in exchange for huge sums of money.
And finally, analysts quoted in Chinese media say India's strong response to the arrest of one of its diplomats in New York may be connected with the country's upcoming general elections.
The arrest and strip-search of diplomat Devyani Khobragade for alleged visa fraud and underpaying her Indian maid sparked public anger in Delhi.
The Indian government ordered security barricades around the US embassy in Delhi to be removed and snubbed a visiting US delegation.
Ms Khobragade has denied all charges.
"The fact that India's government and public are surprisingly consistent and have taken an unusually strong attitude to this event is related to the upcoming general election next year. All political parties want to take the opportunity to make a 'show' to get more votes," the People's Daily quotes an analyst as saying.
BBC Monitoring reports and analyses news from TV, radio, web and print media around the world. For more reports from BBC Monitoring, click here. You can follow BBC Monitoring on Twitter and Facebook.