China media: Kim Jong-il's death anniversary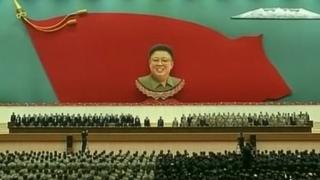 Chinese media give prominent coverage to the second death anniversary of North Korean leader Kim Jong-il, as one leading paper stresses strong Beijing-Pyongyang ties.
Most papers and experts say the execution of Chang Song-thaek, current North Korean leader Kim Jong-un's uncle, will not impact economic ties between the neighbours.
"Observers said Mr Chang's downfall is unlikely to shake Pyongyang's solid ties with Beijing given their security and economic closeness. But China should look out for possible changes on some co-operation projects," state-run newspaper China Daily reports.
Wang Fan, assistant president of China Foreign Affairs University, told the paper that North Korea knows the "urgency of developing the economy amid its difficult international environment".
He said Pyongyang had very limited economic exchanges with other countries, and "sound co-operation with China is very important" for its survival.
Wang Junsheng, a researcher at the Chinese Academy of Social Sciences, told the paper that "development has been a consistent policy under the new leadership, and it is unlikely to have a big twist".
On the other hand, Shi Yongming, a researcher on Korean studies at the China Institute of International Relations, says Mr Chang's execution has a "direct impact on China-North Korea economic ties as some enterprises might consider withdrawing investments from that country for fear of political risks".
Moon mission
State-run agency Xinhua and TV station CCTV are also giving prominent coverage to the second anniversary of Kim Jong-il's death.
"Chinese Ambassador to DPRK [North Korea] Liu Hongcai pays tribute to the bronze statues of late top leaders Kim Il-sung and Kim Jong-il in Pyongyang," Xinhua says in its top news story.
Moving on to domestic news, the Global Times calls for "ethnic healing" to "fight terrorism" after recent reports of violence in Xinjiang Uighur Autonomous Region.
Sixteen people were killed in violence in the western region of Xinjiang on Sunday, a state news portal says.
"Various places in Xinjiang should appoint a certain number of police from ethnic minorities. The Uighur should be made to believe that they are trusted members of the Chinese populace," the paper says.
The Chinese version of the paper echoed similar views, saying "we need to mobilise the material and ideological forces nationwide to break and dissolve national estrangement, which is the key to the long-term stability of Xinjiang".
The Chinese government traditionally blames extremists for the violence, while Uighur activists point to ethnic tensions and tight Chinese control as triggers for violence.
Meanwhile, the controversy over the government's expenditure on the lunar mission continues to simmer in the media.
The rover Yutu, or Jade Rabbit, separated from its lander and left its footprints on the moon's soil on Sunday, Global Times reports.
The paper acknowledged the protesting voices who feel the money spent on such a grand project should instead be used for improving Chinese people's well-being.
But it goes on to defend the programme, saying "investment in social welfare and progress in science and technology are not mutually exclusive. It is irrational to demand that important scientific programmes generate immediate effects".
BBC Monitoring reports and analyses news from TV, radio, web and print media around the world. For more reports from BBC Monitoring, click here. You can follow BBC Monitoring on Twitter and Facebook.