Chinese pilots face low-visibility landing rule at Beijing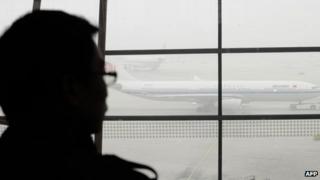 China's aviation authorities say pilots flying into an often smoggy Beijing must be qualified to land their aircraft in low visibility.
From January, pilots coming from China's 10 busiest provincial airports will have to be able to land in visibility reduced to 400m.
Flights to and from Beijing are often disrupted because of smog caused by high levels of pollution.
The new regulations are an attempt to keep them flying.
Blind landing
The Civil Aviation Administration of China announced that the new rules will be introduced on 1 January.
"It is part of a series of measures the administration took recently to raise the flights' on-time performance," a source at the administration told the China Daily newspaper.
FlightStats, a US company that analyses delays at airports, gave an indication in the summer of just how bad those on-time performances were at Beijing's international airport - it said it was the worst in the world for delays.
It found that in June fewer than one in five flights left the airport on time.
Under the new rules, airline captains will be trained to carry out "blind landings", where pilots come down in poor visibility, guided by equipment installed on the aircraft and in the airport.
At the moment, most planes are diverted to other airports when they encounter poor weather.
The new regulations cover only domestic pilots, as China has no authority over foreign airlines, many of which already use equipment to land in poor visibility.
China's aviation administration has not said smog is the reason behind the latest move, but flights from Beijing, and other major Chinese cities, are often delayed because of excessive pollution.