China media: Mandela tributes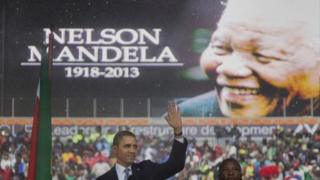 Chinese state media pay tribute to Nelson Mandela, while defending the jailing of their own Nobel laureate Liu Xiaobo.
State media's coverage of the memorial service for South Africa's anti-apartheid hero on Tuesday in Johannesburg appears to be under tight censorship control.
Xinhua news agency and other official media note that South African President Jacob Zuma was jeered at by the crowd when he gave a speech to commemorate Mr Mandela.
However, they have so far not mentioned or commented on international news reports that Chinese Vice-President Li Yuanchao was greeted by cheers, but also boos, by the audience when he was first introduced along with other visiting dignitaries.
Mr Li spoke mainly of Mr Mandela as one of the founding fathers of China-South Africa relations and said the Chinese people would always cherish the memory of his significant contribution to this friendship.
The state media are also silent on the notable absence of Tibet's exiled spiritual leader the Dalai Lama.
The Dalai Lama was blocked by South Africa from attending a Nobel laureates' conference in 2009 and was also denied a visa in 2011.
Hong Kong's South China Morning Post says Chinese propaganda authorities have reportedly ordered the media to not highlight Mr Mandela's views on human rights and democracy, his friendship with the Dalai Lama or reluctance to break diplomatic ties with Taiwan, a former ally of South Africa.
"All posts and comments on Weibo [microblogs] and blogs that take advantage of the funeral of Mandela to attack our political systems and state leaders must be deleted immediately," the Post quotes the purported order as saying.
"China's Mandela"
In other news, the Global Times hits back at unnamed "Western" media for paying tribute to jailed Nobel Peace Prize winner Liu Xiaobo as "China's Mandela".
The state-run nationalist tabloid also joins the Chinese Foreign Ministry in rebuffing a call by US Secretary of State John Kerry to release Liu Xiaobo, and to release Liu's wife, Liu Xia, from house arrest.
Liu Xiaobo was detained in 2008 for his involvement in Charter 08, a manifesto calling for improved human rights and democratic reform. The following year, he was handed an 11-year sentence for subversion.
Beijing voiced anger over the Nobel committee's decision to grant the peace prize to Liu, whose absence was marked by an empty chair at the award ceremony in 2010.
"Liu went through a strict legal procedure. This system makes sure a society of 1.3 billion people runs smoothly. It will not make an exception for Liu under the pressure or appeal of the West," says the Global Times.
Mr Kerry also voiced concern over Beijing's crackdown on other activists including Xu Zhiyong, an anti-corruption campaigner who has been in detention since July on suspicion of organising demonstrations demanding the disclosure of officials' wealth.
Hong Kong political commentator Poon Siu-to says Beijing's communist leadership would rather ignore freedom fighters like Mr Mandela as they continue to suppress Liu Xiaobo and other activists.
"Beijing cannot give high-profile praise to Mandela spending 27 and a half years in prison to fight for the political rights of blacks and end the 'one-party dictatorship' of white rule. They have jailed one fighter after another, including Liu Xiaobo, who have fought like Mandela for democracy and human rights in China," he writes in the Ming Pao.
Meanwhile, The Global Times also criticises The New York Times for "hyping up" a report by FireEye, a US-based computer security firm, on "Chinese hackers" allegedly breaching computer systems at the foreign ministries of the Czech Republic, Portugal, Bulgaria, Latvia and Hungary.
The Chinese foreign ministry on Tuesday rejected the hacking allegations as "utter fabrication".
Turning to domestic news, think-tank experts tell The Beijing News that China's annual closed-door Central Economic Work Conference this week is likely to focus on steering the country towards higher-quality and sustainable development amid a slower forecast GDP growth that is expected to be between 7.5% and 7.8%.
Experts say that the meeting will also discuss how to rein in soaring property prices to allow for more affordable housing, as well as tackling pollution and problems in urbanisation.
The annual meeting, which is attended by central government leaders, will set economic growth targets and policy priorities for 2014.
BBC Monitoring reports and analyses news from TV, radio, web and print media around the world. For more reports from BBC Monitoring, click here. You can follow BBC Monitoring on Twitter and Facebook.