The Chinese farmer who amputated his own leg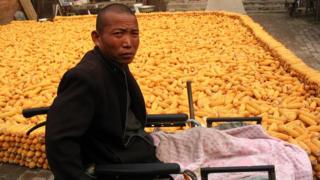 A Chinese farmer who sawed off his diseased leg because he could not afford hospital treatment bills has shone a spotlight on gaps in the health care system.
Zheng Yanliang, who is from Hebei province in north China, developed an infection in his leg last year and the blood circulation to it began to fail. That made the problem worse and gangrene set in.
By the time he went to the doctor, Mr Zheng, 47, was told he would need an operation and could lose his leg. It was then that Mr Zheng realised he was in big trouble.
"I asked how much it would cost to do this operation," he said.
"The doctor said an operation on one leg would cost more than 300,000 yuan ($49,000, £30,000) and it would cost more than a million yuan if I had operations on both legs. I can't afford it. I only had 20,000 yuan."
Mr Zheng's case, although extreme, has highlighted the flaws in China's health care system, particularly for those living in the countryside.
He was covered for some medical treatment under the government's rural health insurance scheme. But he had to pay the costs upfront and could only claim back some of them.
'Leg turned black'
Without enough money to pay for treatment or surgery, Mr Zheng felt he had no choice but to return to his home in Dongzang village in Qingyuan county, where he endured months of extreme pain.
"I lay in bed for more than three months. My leg turned black. The skin and the flesh were all black," he said.
"There were maggots in the flesh. I could see the bone in my right leg. I felt sick when I saw it."
Finally, Mr Zheng could not bear to suffer any more and decided to take drastic action.
"I told my wife that I would saw it off. She wasn't happy about it. We had an argument and she went out," he said.
"I found a hacksaw under the bed and a small knife, and I just sawed it off. It took about 20 minutes. I was sweating like a pig."
Mr Zheng remained conscious throughout, biting on a stick wrapped in a towel to try to alleviate the immense pain.
The DIY surgery, which Mr Zheng performed in April 2012, has only recently been reported in the Chinese media. It has prompted a debate about the inequalities in China's health care system, especially for low-income families.
Many ordinary Chinese people have been so moved by Mr Zheng's story that they have donated more than 300,000 yuan to his cause. He has also been offered free medical treatment - at least for now. But Mr Zheng is worried about the future.
"I don't have income. I hope the government or the hospital will look after me. What if I get sick?" he said.
'A lot of burden'
It is a reasonable question. Like Mr Zheng, almost half of China's 1.3 billion people live in rural areas. Despite government progress in reforming the healthcare sector, around 80% of health and medical services are concentrated in cities.
More money for health care is spent per capita on the urban population. Those in the countryside are at a significant disadvantage, says Professor John Cai, director of the Centre of Healthcare Management and Policy at the China Europe International Business School.
"We still lack a huge number of good, qualified physicians so most of the good doctors concentrate in the cities, in the big teaching hospitals," he said.
"So it really adds a lot of burden to this farmer if he cannot receive good care in his local area. He has to travel to the big cities, with added transport and hotel costs. That really make things worse."
Mr Zheng has since had an operation on his other leg, which was amputated above the knee after also becoming infected. The surgery was done at the provincial hospital in Baoding.
But he knows he will need more medical treatment and does not know how he will afford it.
China's government is well aware of the problems facing people like Mr Zheng.
It has promised to make the country's health care system more accessible and affordable. It wants hospitals to cut the price of expensive drugs, treatments and diagnostic tests which can bankrupt the poorest households.
Beijing's goal is to provide universal health care to the entire population, both urban and rural, by 2020.
But achieving that aim will be costly: health care spending is projected to triple by 2020, to one trillion dollars. And China must find the money to cover those costs.