Chinese director Zhang Yimou admits violating one-child policy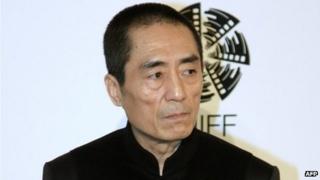 Popular film director Zhang Yimou has confirmed he has three children with his wife, in violation of China's strict one-child policy.
Mr Zhang, known for directing the Beijing Olympics opening ceremony in 2008, issued his "heart-felt apologies" on his official microblog.
His statement came after officials said they were going to question him over allegations he fathered many children.
Reports about Mr Zhang have been posted online and in media for months.
China introduced its one-child policy in the 1970s to curb population growth.
The strictly-enforced policy previously limited most urban couples to a single child. Rural families were allowed to have two children if their first-born was a girl.
Last month, China announced that it would relax the policy - families will be allowed two children if one parent is an only child.
Mr Zhang said he was ready to accept punishment for breaking the law, which could include a substantial fine. However, he denied reports saying he had fathered at least seven children with his wife and other women.
"Zhang Yimou and his wife Chen Ting confirm that they have two sons and a daughter," read the post on his weibo, China's equivalent of Twitter.
"For the negative consequences of my actions, I would like to express to the public my heart-felt apologies."
His statement added that the couple were willing to be investigated by officials in the city of Wuxi in Binhu district, where Mr Zhang's wife is from. Officials have been trying to locate the director since early this year.
Mr Zhang's case has generated much debate online, with some seeing it as an example of how those with influence or money can flout the law, while poorer families have no choice but to comply.
Mr Zhang, 61, directed some of China's most successful films, including Hero and House of Flying Daggers.
His 2011 work The Flowers of War, starring Christian Bale, was set during the 1937 Nanjing Massacre.