China media: Air zone controversy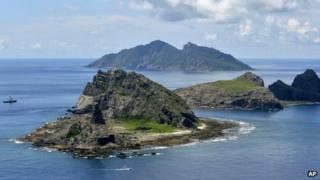 State media are accusing the US of siding with Japan after it flew two B-52 bombers into China's newly-declared air defence perimeter without giving prior notice on Tuesday.
China and Japan have been locked in a long-running dispute over islands known as the Diaoyu in China and Senkaku in Japan in the East China Sea.
"The US move [to fly B-52s] appears to be a cautious probe of China's ability to manage the airspace, but it risks escalating tensions in the region... Washington has repeatedly said that it takes no position in the territorial dispute between China and Japan over the Diaoyu Islands, yet its acts belie its words," says Xinhua news agency.
The US Pentagon said on Tuesday that the B-52s had crossed into the zone while conducting a training exercise which had been planned for a long time.
The state-run China Daily justifies the lack of a strong response from the Chinese military against the B-52s.
"That the Chinese military did not respond with defensive emergency measures may in part be because it is too accustomed to similar US military aircraft approaches in the same airspace to make a fuss. But, more importantly, it is an outcome of the country's consistent policy of avoiding avoidable conflicts," it says.
The Global Times dismisses any potential threat by B-52s flying near the zone as "too laughable". But it says China's "slow" official response to the B-52s showed its lack of skill against the US' "psychological warfare".
"Around 10 or so hours elapsed from the US' announcement of the news to the response made by our side. Ordinarily, this speed would be very quick, but in the internet age, this time was enough for a massive amount of news that was detrimental to the image of our Air Defence Identification Zone and even detrimental to the image of our military as a whole," it says.
Student poisoning
In domestic news, a sensational poisoning case at Shanghai's prestigious Fudan University which triggered a national outcry is back in the media spotlight again after the key suspect confessed he had poisoned his roommate as an "April Fool's trick", the China Youth Daily reports.
At an intermediate court in Shanghai, Lin Senhao, 27, a graduate medical student, confessed on Wednesday he poisoned his roommate, Huang Yang, by putting a toxic laboratory chemical in the water dispenser in his dormitory on 31 March.
Huang Yang, 27, also a graduate student, drank the water on 1 April and died of liver, kidney and lung failure on 16 April.
Prosecutors have charged Mr Lin with intentional homicide and say he knew the amount of poison he put in the water dispenser would kill Huang.
However, Mr Lin says he had no intention to kill his roommate and that he only intended to cause Huang discomfort. The court has yet to issue a ruling.
Two top executives at the state-run oil giant Sinopec have been suspended after being held responsible for the deadly pipeline explosions that killed 55 in the eastern city of Qingdao on 22 November.
The Beijing News says many residents are continuing to demand relocation away from the site of the oil pipeline explosion. However, news of the protests has been censored in the mainland media.
Hong Kong's South China Morning Post says scuffles broke out between police and more than 100 residents rallying for a second day outside the local government headquarters in Huangdao district on Wednesday to demand relocation. No injuries were reported.
BBC Monitoring reports and analyses news from TV, radio, web and print media around the world. For more reports from BBC Monitoring, click here. You can follow BBC Monitoring on Twitter and Facebook.