Li Tianyi: China singers' son rape verdict upheld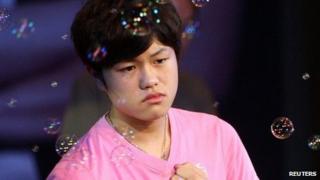 A Chinese court has rejected an appeal from the son of two high-profile army singers, upholding his 10-year jail sentence for rape.
Li Tianyi was found guilty of leading a gang rape in September. He lodged an appeal on 10 October.
The 17-year-old and four others raped a woman at a Beijing hotel in February after drinks.
The case sparked public anger and criticism of the behaviour of the children of China's elite.
Li is the son of Li Shuangjiang, who has the rank of general and is known for his renditions of patriotic songs on television. Li's mother, Meng Ge, is also a well-known singer in China's People's Liberation Army.
"The court rejected the appeal and upheld the original verdict," the Beijing First Intermediate People's Court said in a post on its verified microblog on Wednesday.
Li was originally sentenced by the Haidian District People's Court in Beijing in September.
The court had said it gave Li a lighter sentence because juvenile offenders should be given a chance to correct and reform their behaviour.
The other men involved in the rape, three teenagers and one older man, were also found guilty by the Haidian Court.
Li Tianyi, also known as Li Guanfeng, was also sentenced to detention for a year in 2011 over a high-profile road rage incident.