US Ambassador to China Gary Locke to quit post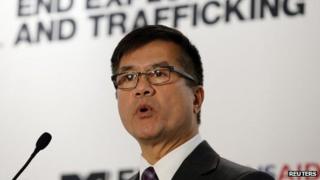 US Ambassador to China Gary Locke has said he will step down from his post early next year for personal reasons.
Mr Locke said in a statement that he told President Barack Obama this month of his decision to step down to rejoin his family in the US.
Mr Locke, 63, is the first Chinese-American to assume his current role.
His term has been marked by a series of delicate diplomatic incidents between the US and China, including a row over blind activist Chen Guangcheng.
'Advanced American values'
Mr Locke elicited admiration from the Chinese public even before he arrived in China. Images of him sporting a backpack and buying his own coffee in Seattle went viral online - a stark contrast to Chinese officials who are known to travel with an entourage.
But his term has also seen its share of controversy. One incident was when Wang Lijun, the former police chief who would spark the downfall of top Chinese politician Bo Xilai, sought refuge at a US consulate in south-west China in February 2012.
The Chen Guangcheng incident in April 2012, which overshadowed talks between the US and China, also generated criticism for Mr Locke.
Mr Chen's escape from house arrest seeking refuge at the US embassy in Beijing for six days sparked a diplomatic crisis.
Mr Chen was eventually given permission by China to leave for the US to study.
The son of two Chinese immigrants to the US, Mr Locke formerly served as commerce secretary before becoming ambassador to China in August 2011.
He said in a statement that during his term, he advanced business and tourism relations with China.
He also said embassy officials "advanced American values" by meeting with human rights lawyers, ethnic communities and religious leaders.