China media: Property prices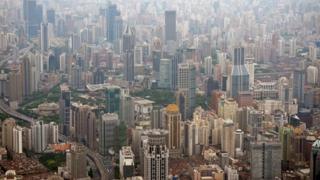 Papers highlight skyrocketing house prices in many cities despite government efforts to cool the property market in recent years.
The Beijing News says house prices in 70 major cities continued to hit record highs in October, according to official data released on Monday.
With the exception of the eastern coastal city of Wenzhou in Zhejiang province, 69 cities saw house prices rise.
The prices rose by more than 10% in 21 cities, as Shanghai topped the ranks with a 21.4% rise, followed by Beijing with a 21.2% hike.
In response to the overheated property market, China has decided to speed up legislation for tax collection in the real estate sector.
Analysts tell the Global Times that the tax measures could curb the excessive reliance of local governments on revenue from land sales, which has been a factor behind record-high land prices.
The China Daily says the central government will also introduce a "unified market" for construction land in cities and rural areas to increase land supply for housing.
Authorities in Guangzhou, the capital of southern Guangdong province, also announced on Monday stricter financial criteria for buying homes in a bid to cool the property market, says the Southern Metropolis Daily.
Local residents without a Guangzhou hukou (local residence permit) must show proof of tax payments or social insurance payment certificates for the last three years to be able to buy a home in the city, the paper says.
Previously, homebuyers only had to submit details of payments for the previous year. Guangzhou will also raise down-payments for people buying a second home to at least 70%.
Beijing and Shanghai have already raised the required down-payments for second homes.
However, Hong Kong's South China Morning Post says many people are still abusing the country's affordable homes scheme.
"A supply of affordable homes for poor people amid China's rapid development is critical to social stability... Beijing should impose meaningful penalties for abuse in place of the existing derisory deterrent of a maximum fine of 5,000 yuan [£500; $820]," it stresses.
Soviet-era documentaries
In the wake of Gambia's unilateral decision to cut diplomatic ties with Taiwan, Beijing's Global Times calls on the island to give up playing a "costly game" to retain diplomatic allies.
"Taiwan is not a 'country' in terms of international relations law. Taiwan society needs to face this reality... Taiwan's relations with its remaining 22 'diplomatic allies' no longer have any real meaning. They are basically small countries or both small and poor countries," says the editorial.
Meanwhile, Hong Kong's South China Morning Post says Communist Party cadres are reportedly under orders to watch documentaries on the failure of Soviet communism because of Beijing's "paranoia" over the collapse of the Soviet Union in the early 1990s.
In other news, some newspapers are demanding to know the truth about a teenager's allegations that he was physically abused by police officers during detention at a local police station in northwest Gansu.
The 16-year-old microblogger from the Zhangjiachuan Hui Autonomous County, who uses the pseudonym Yang Hui, was put in criminal detention for a week in September for allegedly spreading false "online rumours" on his microblog about a slow police investigation into a local karaoke bar worker's death, reports say.
The police withdrew the criminal charge later and instead punished him with a seven-day administrative detention.
But on 10 November, Yang Hui posted more microblog allegations that he was physically assaulted by about five policemen during his detention.
However, police officials have denied the allegations.
"He dared not say anything shortly after being released. He only decided to speak out after he was transferred to another school. This thing has hurt him seriously," Yang Niuhu, his father, tells the Global Times.
Yang Hui's lawyer says Yang Hui has applied for state compensation for the initial criminal charge, and has been asking to revoke the seven-day administrative detention, the Global Times adds.
In addition, the media are also pressing local authorities for the truth on whether officials pressured Yang Hui's school to expel him on Monday.
"When facing pressure from the outside world, both the police and the school, or other forces hidden behind the scenes, all chose repression, avoidance, denial and other methods to handle the matter. They did not dare to respond in a positive, friendly and enlightened manner," comments the Southern Metropolis Daily.
BBC Monitoring reports and analyses news from TV, radio, web and print media around the world. For more reports from BBC Monitoring, click here. You can follow BBC Monitoring on Twitter and Facebook.