China media: One-child policy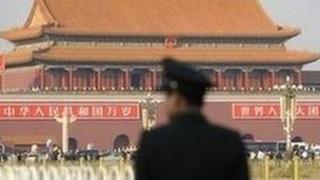 Media welcome reforms to relax the one-child policy and abolish a controversial labour camp system, but raise concerns over their effectiveness.
A new plan allowing couples in China to have two children if one of the parents is an only child is continuing to reverberate through the media since its announcement on Friday.
The measures are part of the resolutions released after the ruling Communist Party Central Committee's third plenum in Beijing last week.
The one-child policy was enforced in the late 1970s to bring down a rapidly-growing population. Most couples living in cities were only allowed to have one child.
The policy was later ease to allow couples to have two children if they were both without siblings.
"This is a positive measure that will not only deal with the demographic dividend decline, labour shortages and other issues, but also help to build a strong social security and pension system," says the Beijing Times.
However, as Hong Kong's South China Morning Post notes, the government will not apply the two-child policy to all couples in the near future, as a possible population explosion could place a burden on public services.
"Adjusting and perfecting birth control policies is not tantamount to relaxing the work of birth planning. Family planning policy should be maintained in the long term," Wang Peian, the deputy director of the National Health and Family Planning Commission, was quoted as saying on the commission website.
Wang Peian also told a press briefing on Sunday that there was no national timetable for introducing the two-child policy and that provincial governments should decide when to launch the scheme based on local conditions.
The Beijing News says most localities will take at least several months to enact legislation to introduce the scheme.
Regions with lower birth rates such as Beijing, Shanghai, Guangdong, Zhejiang, Jiangsu and the northeastern provinces are more likely to introduce the two-child policy first next year, experts tell the newspaper.
However, a lack of social security support is also forcing many couples to give up having a second child.
The Global Times says the new policy has "drawn heated public discussion", with some excited about the greater freedom to make a choice and others cautious of having a second child because of rising child-rearing costs.
"A relaxed population policy will contribute to a rise in the fertility rate by a limited degree - it is unlikely to lead to a population explosion... The authorities need to introduce incentives to encourage more qualified families to have a second child," Mu Guangzong, a professor at the Population Research Institute of Peking University, writes in the China Daily.
Labour camps
Meanwhile, the planned abolition of the controversial laojiao or "re-education through labour" camp system announced on Friday could start entering legal procedures as early as next month, the Global Times reports.
Introduced in the 1950s to lock up the victims of the Communist Party's ideological purges, the re-education through labour system gives police powers to sentence people to labour camps for up to four years without trial.
Despite the upcoming abolition of laojiao, some legal experts believe that the party's plans to rehabilitate offenders by sending them for correctional education at a local community may run into local resistance.
"Before an offender is introduced, it should be considered whether a vote is needed among local community residents, who may not agree to receive a laojiao offender in their neighbourhood," Xu Xin, a law professor at Beijing Institute of Technology, tells the China Daily.
Civil rights activists and lawyers also remain wary over the lack of details about the new community-based correctional centres that are expected to replace the old system, the South China Morning Post reports.
Legal experts also fear the authorities could still lock up petitioners and others charged for trouble-making in "black jails" or mental asylums.
"Re-education through labour is contrary to the rule of law and it has been further reduced in recent years to an abuse-of-power tool for local governments to suppress dissidents.... The community correctional system that has just been proposed by the authorities makes one worry whether it will be a replica of re-education through labour," adds The Sun, another Hong Kong newspaper.
And finally, the South China Morning Post says China is still waiting for a response from the Philippines on whether it will accept an offer of rescue and medical teams to areas affected by Super Typhoon Haiyan.
The Chinese government came under fire in the international media last week for initially offering $100,000 to the Philippines. Beijing later raised its offer by a further $1.6m last Thursday.
BBC Monitoring reports and analyses news from TV, radio, web and print media around the world. For more reports from BBC Monitoring, click here. You can follow BBC Monitoring on Twitter and Facebook.