Chinese man in 'lucky' $1.5m bridal payment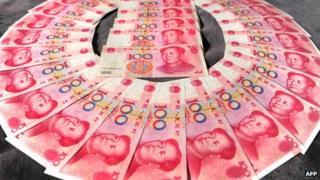 A Chinese man has raised eyebrows on microblogs by giving his future wife the "lucky" amount of 8.88m yuan ($1.5m; £900,000) as an engagement gift, local media report.
Both the man and his bride-to-be came from wealthy families in Zhejiang province, City Express reported.
The families reportedly agreed on the amount because eight is an auspicious number in Chinese.
It is common for bridegrooms to give money to the bride-to-be's family.
Both the man and his fiancee were surnamed Huang, and were in their 20s, a City Express reporter at the engagement ceremony said.
They had been dating for around three months, the report added.
'Uncultured rich'
Photos on social media and news websites showed stacks of wrapped 100 yuan bank notes in bamboo baskets, and porters carrying boxes of gifts for the fiancee's family.
Reporters estimated that the bank notes would have weighed around 102kg (200 pounds) in total.
Eighteen porters were reportedly hired to transport the cash.
The bride's brother told City Express: "For safety's sake, after we verified the bridal gift, we let the accountants put it in the bank."
It is not clear when the engagement ceremony took place. But the incident became a hot topic on Chinese social media on Thursday, generating over 200,000 comments on microblog Sina Weibo.
Many online users ridiculed the size of the gift money, and described the fiance as "tuhao", a term which loosely translates into "nouveau riche" or "uncultured rich".
"If you're showing off your wealth, beware of robberies!" user Natural Beauty V wrote.
Meanwhile, user Gao Yan Little Fried Meat wrote: "Fortunately I'm not from Zhejiang, and don't have such high requirements. Treating me well and looking after me for the rest of my life is worth even more than 8.88m yuan!"