China media: New security body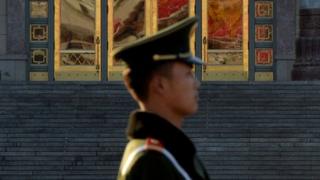 A media row is breaking out in Hong Kong over China's new security body, while official media defend Beijing's aid to Manila in the wake of Typhoon Haiyan.
Beijing's creation of a State Security Committee to oversee security policies across various departments to cope with growing internal and external threats to the country's stability continues to attract considerable attention.
Military experts tell The Beijing News that the functions of the State Security Committee will involve the military, paramilitary and regular police, intelligence organs and other institutions and it is likely to be controlled directly by the party's Central Committee.
The Beijing Times quotes a Chinese Foreign Ministry spokesman as saying that the new security body will make forces like "terrorism, separatism and extremism" that threaten China "nervous".
When asked by a reporter whether China's decision to establish the committee was related to Japan's plan for a similar council, spokesman Qin Gang asked: "Are you trying to put Japan in the same category?" in reference to the aforementioned forces.
Nevertheless, the Wen Wei Po, a Beijing-backed Hong Kong newspaper, singles out Japan as the only country when referring to national security threats.
"China has faced big security challenges in recent years, including challenges from surrounding states such as Japan and other countries and challenges from international terrorism and cyber-security," it says.
The Wen Wei Po also accuses another Hong Kong paper, Apple Daily, of scare-mongering in predicting ominously on its front page on Wednesday that the new security body would threaten Hong Kong's freedoms.
But in its Thursday edition, Apple Daily again warns that the new security body is likely to oversee local affairs in Hong Kong, Macau and even Taiwan.
"Communist China is an autocratic regime whose repression overwhelms everything. Her founding of a State Security Committee will only more unscrupulously damage civil liberties, infiltrate all levels of society more pervasively and be more frightening!" foresees the newspaper.
Other Hong Kong dailies are continuing to speculate on how the creation of the security committee, and another new panel to oversee economic reform, are signs that Xi Jinping has consolidated power since taking office a year ago as party leader.
"Leadership of the two panels is likely to be taken up by Xi Jinping. His core leading position will be more prominent. He will wield real control over the party, government, military and police to become a leader with clout," the Oriental Daily News predicts.
The Apple Daily's front page dresses Mr Xi in Qing Dynasty emperor's robes and says he is pursuing an "emperor's dream" of claiming all power to himself, and compares him to communist republic founder Mao Zedong and Russian President Vladimir Putin.
Haiyan response
In other news, the Global Times says China is sending an extra 10m yuan (£1m; $1.6m) worth of relief supplies to the Philippines in the wake of Typhoon Haiyan.
A Global Times commentary also hits back at the UK's Financial Times, Reuters and other international media for negatively comparing China's initial offer on Monday of just $100,000 of monetary aid with other major nations such as the US and Japan.
"The Philippines, with the US support, has kept provoking China in the South China Sea in recent years and has had no sign of repentance so far. China has actively extended a helping hand in the face of the disaster losses suffered by the Philippine people," says the commentary.
Elsewhere, the Hong Kong government will not delay possible economic sanctions against the Philippines over the 2010 Manila bus hostage crisis, despite the country's struggle to deal with the destruction caused by Haiyan, the South China Morning Post reports.
And finally, over 100,000 user accounts on microblogging platform Sina Weibo have breached online ethics stipulated in the Sina Weibo Community Convention, the Beijing Morning Post reports.
It adds that users were penalised for verbally attacking or harassing other people, spreading false information, plagiarising from other users, exposing other people's personal information or assuming another person's identity.
BBC Monitoring reports and analyses news from TV, radio, web and print media around the world. For more reports from BBC Monitoring, click here. You can follow BBC Monitoring on Twitter and Facebook.