China Shanxi blast: Police arrest one suspect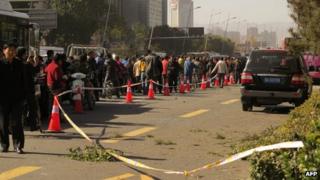 A man has been arrested in connection with a series of blasts outside a local Communist Party office in Shanxi province, police and state media say.
The explosions, apparently caused by home-made bombs, killed one person and injured eight in Taiyuan on Wednesday.
A 41-year-old local resident, who had previous convictions for theft, had confessed to the crime, Taiyuan police said on their verified microblog.
Police said they found evidence, including explosives, at his home.
There was no word on a possible motive for the incident.
The blasts came ahead of a major economic planning meeting of the Communist Party's top officials that will start in Beijing on Saturday.
'Finger-length nails'
Police named the man as Feng Zhijun, and said he had been arrested in the early hours of Friday morning.
He had previously been given a nine-year jail sentence for theft, police added.
On Wednesday, eyewitnesses told journalists they heard at least seven loud blasts during the explosions.
Police also found ball bearings at the scene, suggesting they had been used in the bombs, state media said.
A local journalist told the BBC he saw "many iron balls" and a few "finger-length long nails" at the scene.
"There were also iron balls on the floor, marked with chalk," the man, who asked not to be identified, said. "I was very scared when I went there."
Taiyuan, the capital of Shanxi, a province in north central China home to large-scale coal mining, is home to more than four million people.
Local police have announced the case "solved", but questions are already circulating on Chinese social media, where many appear dissatisfied with the police response, the BBC's Lucy Williamson reports from Beijing.
Specifically, many are asking about the motive behind Wednesday's attacks, our correspondent adds.
There have been occasions in the past in China where disgruntled citizens have targeted local government institutions.
Tensions are also high in the wake of last week's incident in Beijing.
A car ploughed into a crowd in Tiananmen Square in what the authorities said was a terrorist attack incited by extremists from the western region of Xinjiang.