China media: India's Mars mission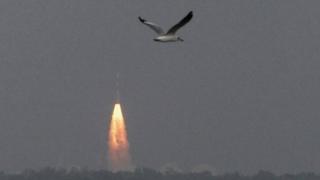 Chinese state media give a cautious welcome to the successful launch of India's first Mars probe mission, but caution that the space race should not fuel regional tensions.
The Mars Orbiter Mission took off on Tuesday morning from the Satish Dhawan Space Centre on the country's east coast and is set to travel for 300 days, reaching Mars orbit in 2014.
The China Daily says China and India must work together to explore space instead of being engaged in "aerospace competition".
Ye Hailin, an expert on South Asian studies at the Chinese Academy of Social Sciences, tells the paper the Indian launch should be interpreted rationally as "a great achievement" of India that also deserves applause from the rest of the world.
"Like the Chinese, Indian people have their space dreams as well," Ye Hailin adds.
A South China Morning Post editorial says: "China's neighbourhood, full of vigour and vitality, boasts obvious advantages and development potential".
"One may argue that China is finally stepping out of the 'middle kingdom complex' and beginning to realise that, only through better integration of its interests with those of its neighbours can it create and maintain a more secure and prosperous environment around its borders and peripheries," the paper adds.
The daily, in another article, also cautions against the risk of fuelling regional tensions.
"The governments of mainland China and India are not the only ones in Asia interested in space. Japan and South Korea also have well-advanced programmes. There are a myriad benefits of space exploration, but in the case of China and India there is also the risk of fuelling regional tensions, militarisation and confrontation," the paper says.
Some papers say the neighbours need to avoid competition and instead think about increasing expenditure on social programmes.
"There is significant duplication in the two countries' efforts. As was realised by the US and Soviet Union in the 1970s after two decades of fierce space rivalry, it would make more sense to co-operate than compete," the South China Morning Post adds.
The Global Times says widespread poverty in India poses a question on its Mars mission.
"India is not immune from critics at home and abroad, who wonder whether it's worthy for a country where more than 350 million people live on less than US$1.25 a day ( £0.78) and one third of the population are plagued by power shortages to spend millions of dollars travelling hundreds of millions of kilometres for a few Mars pictures," it says.
The paper also points out the difficulties that lie ahead for the mission.
"So far, only the US, Russia and EU have succeeded in Mars exploration. Other attempts to reach Mars, including China's Yinghuo-1 mission and Japan's Nozomi mission, have failed. India has an ambitious goal of leading Asia in this area," it adds.
'Verbal restraint'
Also in more international news, some newspapers say Japan needs to do more than showing "verbal restraint" if it wants to start talks on the dispute over a group of East China Sea islands known as Senkaku in Japan and Diaoyu in China.
The China Daily says "Japan should adjust its policy on disputed islands and start dialogue with China and the US to increase strategic trust".
The paper adds that Japanese Prime Minister Shinzo Abe has "refrained from making provocative remarks" in the past two days due to diplomatic pressure from Washington and the need to win over international public opinion.
"And while showing greater verbal restraint, Mr Abe and his Cabinet are accelerating the Japan's military build-up and there are signs that it is making the transition from precaution to confrontation with regard China," it adds.
A Global Times editorial says: "Japan has played the role of an aggressor for the past few years but the country has repeatedly failed to break out of its geopolitical dilemma".
And finally, some state-run papers feel internet users and media outlets have to be cautious in their reporting on major incidents like last week's Tiananmen Square crash.
Three people who died in the car were reportedly from the Muslim Uighur minority in the restive western region of Xinjiang.
"In the 'discourse container' of the internet, there are political discussions and suggestions, expression of demands, as well as the spreading of rumours and a sense of disorder. In this context, proper guidance of public opinion is clearly necessary," The Beijing News says.
The Global Times says "the media needs to realise that they are assuming social responsibilities such as ensuring ethnic equality, unity and socio-cultural variety".
"The majority of Uighur are also victims of this terrorist attack… The mainstream media should take on the responsibility of separating this incident from the Uighur and Islam. They need to portray the image of Xinjiang and Uighur in a comprehensive manner, and try their best to avoid secondary damage to the Uyghur people, especially the ones who live outside of the far west," it says.
BBC Monitoring reports and analyses news from TV, radio, web and print media around the world. For more reports from BBC Monitoring, click here. You can follow BBC Monitoring on Twitter and Facebook.