China Olympic swimming champion Sun jailed for seven days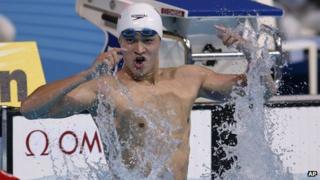 Chinese Olympic swimming champion Sun Yang has been sentenced to seven days in police detention for driving without a licence.
He was caught when a Porsche jeep he was driving in his hometown of Hangzhou collided with a bus on Sunday.
Sun won Olympic gold in the 400m and 1,500m freestyle events at London 2012.
In a statement, the swimmer apologised and said he had a poor knowledge of the law because he had been "focusing on training and competition".
Writing on Weibo, China's equivalent of Twitter, the 21-year-old athlete said he had failed as a role model, and he would reflect on his behaviour.
According to Chinese state media, Mr Sun claimed the jeep he was driving belonged to a relative.
The swimmer - China's first male Olympic swimming champion - has been in the news before for his exploits out of the pool.
Earlier this year he reportedly fell out with his coach over a relationship with an air hostess.