China media: Tiananmen Square crash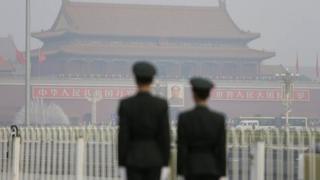 China's official press are accusing Western media of "double standards" on last week's Tiananmen jeep crash.
State media are hitting back at US broadcaster CNN for publishing op-ed articles by US academics linking the crash last Monday with the Chinese government's policies towards ethnic minority Muslim Uighurs.
Beijing police say it was a "terrorist attack" carried out by "religious extremists" from Xinjiang under the influence of the East Turkestan Islamic Movement, a group branded a terrorist organisation by the Chinese government.
Police say that the alleged attacker Usmen Hasan crashed an SUV carrying his wife and mother, plus jihadist banners and machetes, near the Tiananmen Square rostrum. All three of them died in the blaze. Five suspects, allegedly involved in the attack, were arrested last week.
Exiled Uighur groups, however, say Beijing's heavy-handed rule is triggering ethnic tensions and that a transparent investigation into the Tiananmen incident is needed.
'Cold War ideology'
Last Thursday, Sean R Roberts, a specialist on Xinjiang at George Washington University, questioned on CNN's website whether the alleged attack was a "well-prepared terrorist act or a hastily assembled cry of desperation from a people on the extreme margins of the Chinese state's monstrous development machine".
The Global Times said that CNN had "really gone too far this time".
"A few days ago, a kid appeared on the US' ABC television station saying 'kill everyone in China'. A few days later, the CNN website has also defended violent terrorist elements who perpetrated violence in Tiananmen Square. We should say to the American media: Please have some self-respect," it said.
Meanwhile, an article published on CNN's blog on Friday by Robert Daly, director of the Kissinger Institute on China and the US at the Woodrow Wilson Centre, has incurred similar condemnation.
The Global Times takes issue with Mr Daly's comments that Beijing's "penchant for secrecy" in censoring the Tiananmen blast has made it difficult for other countries to extend sympathy to China.
Besides lambasting CNN, the China Daily also criticises a report by Agence France-Presse for reporting that Uighurs at home and abroad have also questioned Beijing's account of a Tiananmen Square "terrorist attack" as a "dubious pretext for repression" against the Uighur population.
In an interview with AFP, Alim Seytoff, a US-based spokesman for the overseas Uighur group World Uyghur Congress (WUC), questions why an attacker would his kill his own family, and how religious material could survive in a car engulfed in flames.
"Some in the West are clearly using double standards. Attacks on innocent civilians that take place in the US or European countries are terrorist attacks, but similar assaults on civilians in China are something else. They have a kind of phobia about Chinese or Asian people or they see an act of terror through the prism of their Cold War ideology," says the China Daily.
Pregnant woman shooting
In domestic news, The Mirror says a family has rejected a compensation offer for each of three children reportedly kidnapped and killed by their uncle in a recent extortion attempt that has captured top headlines.
Local police say Zhang Xingyan, 33, was detained last Friday and has confessed to murdering the three children who were walking to a bus stop to go to primary school in Yueyang County, central Hunan province, on 30 October.
The family say that the suspect had abducted the children after losing money opening a firecracker factory and owing big gambling debts.
However, the family is now accusing the school and the school bus driver of not raising the alarm faster about the children's disappearance. They also say local authorities have done nothing except agree to provide 20,000 yuan (£2,000; $3,280) for each child.
In The Beijing News, commentator Han Han also blasts local police for rejecting the parents' plea to search for the children because the disappearance had occurred "less than 48 hours ago".
Elsewhere, the Oriental Morning Post is calling on local authorities not to use a compensation offer of 700,000 yuan (£72,000; $115,000) to "hush up" the case of a drunken policeman who allegedly shot dead a pregnant woman when her husband did not serve him tea in Dapeng town, southwest Guangxi.
Last Monday, officer Hu Ping is alleged to have shot dead Wu Ying after her husband said his noodle shop did not serve milk tea. The mother of two daughters was five months pregnant. Her husband was shot in the shoulder but is still alive.
BBC Monitoring reports and analyses news from TV, radio, web and print media around the world. For more reports from BBC Monitoring, click here. You can follow BBC Monitoring on Twitter and Facebook.