Tiananmen blast: Xinjiang general stripped of role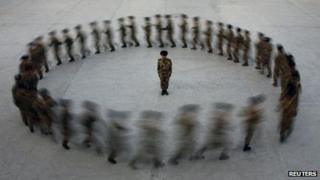 The military commander in China's restive western province of Xinjiang has been stripped of his Communist Party position, state media report.
It comes less than a week after a fatal attack in Beijing, blamed on Muslim Uighurs, who make up a large part of the population in Xinjiang.
No reason was given for the dismissal.
Five people died when a car ploughed into a crowd in Tiananmen Square last Monday. China said the crash was incited by Islamist separatists.
General Peng Yong was dismissed from his post as a member of the Standing Committee of the Chinese Communist Party of Xinjiang, the Xinjiang Daily said.
It gave no further details.
Security in Xinjiang appeared to have been tightened in the wake of the attack, correspondents said.
Chinese state media said the attack was the work of eight suspected Islamist militants who had collected 400 litres of fuel, weapons and 40,000 yuan (£4,100; $6,600).
The car went up in flames after it drove into a crowd of bystanders on the northern edge of Tiananmen Square, one of the most tightly policed places in China.
The three occupants of the car all died, as did two bystanders.
China's top security official said the attack was incited by the separatist East Turkestan Islamic Movement (ETIM).
China often blames the ETIM for incidents in Xinjiang. But the BBC correspondent in Beijing says few believe that the group has any capacity to carry out any serious acts of terror in China.
Uighur groups claim China uses ETIM as an excuse to justify repressive security in Xinjiang.
There are nine million Uighurs living in Xinjiang, but they are now a minority in the region, which is now dominated politically and economically by Han Chinese.
There have been violent clashes in Xinjiang in April, June and August this year.