China fireworks factory blast kills 11 in Guangxi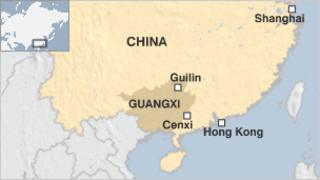 An explosion at a fireworks factory in the southern Chinese region of Guangxi has killed 11 people and injured 17, state media say.
The blast struck the factory in the city of Cenxi in the Guangxi autonomous region on Friday afternoon.
Two businessmen have been arrested, the Xinhua news agency reported.
China's fireworks industry suffers from lax controls and there have been a number of deadly incidents in recent years.
In February, a truck carrying fireworks exploded on an elevated highway in Henan, central China, killing at least five people and causing part of the road to collapse.
In 2010, 19 people were killed in a blast in February in the southern province of Guangdong, and another 19 in an explosion in August in the city of Yichun in Heilongjiang province.
Xinhua said the cause of Friday's explosion was unknown.