China media: US spying row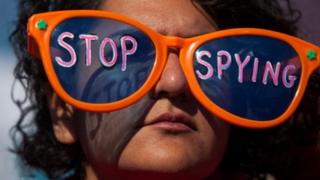 Washington's spying activities are "unacceptable", papers say, adding that recent reports suggest that several Chinese cities may have come under US surveillance.
The US is under pressure over its surveillance programme following claims that its National Security Agency (NSA) monitored German Chancellor Angela Merkel's mobile phone and also "eavesdropped" on the general public in France and Spain.
Some recent reports in an international magazine suggest that the NSA's net may have reached Chinese cities.
The news has sparked angry reactions in Chinese newspapers.
The People's Daily says "the United States, with its world-leading information network technology strengths, has become the world's largest eavesdropper".
The paper, in another commentary, says that "the 'Prismgate' controversy is nothing less than a 'political tsunami'. The incident did not have any moral support from home or abroad, and exposes instead the arrogance and lack of credibility of the US."
This view is echoed by China Youth Daily, saying that the US has always indulged in hegemonic thinking, and that its blatant defiance and disregard of world opinion is quite apparent.
The China Daily says "the White House has some explaining to do because such establishments and activities are illegal in nature and not covered by diplomatic immunity. Nor are there any known bilateral agreements allowing their existence".
"Decision-maker ignorance, as was the case in US President Barack Obama's reply to reports on the NSA's alleged snooping on German Chancellor Angela Merkel's cell-phone, will not be an acceptable excuse. To many Americans, we are at the very best a potential rival, if not an enemy, despite all the official rhetoric about partnership," it adds.
Also in foreign news, state media are calling for tougher measures against Japan amid escalating tensions between the two countries.
Rhetoric has risen in recent days, with Tokyo reporting increased activity from Beijing around the disputed islands in the East China Sea known as Senkaku in Japan and Diaoyu in China.
"Japan often uses the 'China threat' theory, to invert right and wrong, to stigmatise China, in an attempt to create the impression that Japan is a victim, and to find an excuse to break free from the constraints of the constitution and re-equip its army," the Beijing Times says.
The Global Times says "Shinzo Abe (Japanese PM) wants to stifle the rise of China for various reasons: firstly he covets Chinese territory, and secondly he wants to clear the way for Japanese hegemony in Asia. But this is Mr Abe's daydream, for no one can stop China's forge ahead".
Liu Jiangping, a Chinese military expert, tells Hong Kong paper Ta Kung Pao that verbal warnings have very little effect on rogue states and that China must strictly enforce legal rights in maritime zones.
Altered images
Turning to domestic news, the media continue to reflect on Monday's "terror attack" in Tiananmen Square that killed five people.
Three people who died in the car appear to be from the Muslim Uighur minority in the restive western region of Xinjiang.
Officials in Beijing blame separatist groups in Xinjiang for spreading terrorism, but exiled Uighur groups say the government is using terrorism as a pretext to suppress civil and religious freedoms in the region.
"The particular grievances of the ethnic Uighur family that drove through a fence into Tiananmen Square remains unknown. Whatever the perceived injustice was, though, it is now of no consequence. Those who target the lives of innocent people for the sake of a cause do not deserve a fair hearing; their actions can only be condemned," says the South China Morning Post.
State-run China Daily goes a step further and calls the suspects "religious extremists".
"A few religious extremists harbour the ill intention of separating the Xinjiang Uighur autonomous region from its motherland. They have already organised a number of terrorist attacks in the north-western autonomous region, which have resulted in the loss of more than 200 lives over the years...
"Their way of asserting their will by resorting to terrorism will only make them the enemy of all Chinese people," it adds.
And finally, mainland Chinese officials have been caught "manipulating" some government publicity photographs.
The Global Times reports that the altered photos show government officials in Ningguo, Anhui Province, paying a courtesy visit to a 103-year-old woman at a nursing home.
The elderly woman "appeared disproportionately tiny by the side of four middle-aged smiling men who looked like giants" in an an altered photograph that was posted on the government website, it says.
"Recent years have witnessed quite a few such manipulations. The most famous one is perhaps a photograph that was exposed in 2011. This picture was that of three officials in Huili county in Sichuan Province, inspecting a newly completed road, but the image appeared to show them levitating over the tarmac," the paper adds.
BBC Monitoring reports and analyses news from TV, radio, web and print media around the world. For more reports from BBC Monitoring, click here. You can follow BBC Monitoring on Twitter and Facebook.