China plea paper 'to be overhauled'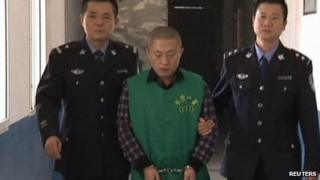 A Chinese newspaper that made a front-page appeal for the release of a reporter accused of defamation is to be overhauled, a press regulator says.
The Guangzhou-based New Express made a rare public plea for the release of journalist Chen Yongzhou.
But Mr Chen subsequently admitted on television that he had taken bribes to fabricate stories about a part state-owned company.
Now the New Express is to undergo "full rectification", the regulator said.
'Disordered management'
The "rectification" order came from the Guangdong Administration of Press and Publication, Radio, Film and Television.
"A preliminary investigation showed that Yangcheng Evening News Group's New Express had published several untrue reports about listed company Zoomlion in the period of September 2012 to August 2013. New Express's editorial management was disordered," the regulator said in a statement.
It said it had decided to "impose an administrative penalty on Chen Yongzhou by revoking his reporter's license".
It had also "instructed Yangcheng Evening News Group to undertake a complete rectification of New Express, and recommended they investigate the relevant responsible persons at New Express and immediately revise New Express's leadership team."
Mr Chen wrote several articles for the New Express alleging financial irregularities at a construction-equipment company called Zoomlion. The company denied the allegations.
After he was detained, his newspaper published two front-page appeals for his release, saying it backed his journalism.
But Mr Chen then appeared on state television admitting he had published false stories for money.
"In this case I've caused damages to Zoomlion and also the whole news media industry and its ability to earn the public's trust," he told state broadcaster CCTV.
"I did this mainly because I hankered after money and fame. I've been used. I've realised my wrongdoing."
Following Mr Chen's apology, New Express issued a front-page apology, saying it had failed to properly check his reports.
Several high-profile suspects have made televised confessions recently. Experts say confessions are still routinely coerced, despite a change in the law earlier this year banning the authorities from forcing anyone to incriminate themselves.