China media: Tiananmen crash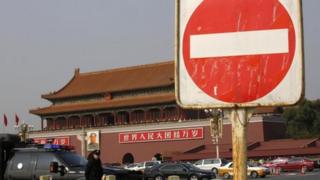 State media describe the deadly car crash at Tiananmen Square as "a violent terrorist attack" and urge the government to put an end to such violence.
Police have detained five suspects in connection with the crash on Monday that killed five people and injured 38 in one of Beijing's highly-guarded areas.
Three people who died in the car appear to be from the Muslim Uighur minority in the restive western region of Xinjiang.
Chinese authorities often blame "terrorists" and separatists with overseas backing for violent unrest in Xinjiang. Exiled Uighur groups, however, say Beijing's heavy-handed rule is triggering ethnic tensions.
Xinhua news agency says the incident has been described as a "violent terrorist attack which was carefully planned and organised".
The Beijing Times comments that "over the past decade, terrorism has become one of the most prominent challenges for the international community. China has been negatively impacted by ethnic separatist forces, violent terrorism and religious extremism".
"Terrorism is a 'lump of cancer' in contemporary Chinese society. To get rid of the 'cancer', our legal system needs to have leading counter-terrorism mechanisms," it adds.
The Beijing News echoes the view, saying "any violent terrorist attacks against civilians… should be given the most severe condemnation".
"The intention of this violent terrorist attack is very obvious - to form a sensation and attract worldwide attention by creating trouble in the heart of Chinese politics," it says, adding "criminals who carry out violent terrorist acts… are the common enemy of all Chinese people of different ethnic backgrounds and of all nationalities in the civilised world".
Hong Kong's Wen Wei Po notes that "preliminary investigation by the Beijing police conclude that the incident is directly linked to 'Xinjiang independence' forces".
"In recent years, several cases of hair-raising terrorist attacks in Xinjiang have resulted in bloodshed, but the severity of this incident surpasses those before, and is highly unusual," the paper comments.
The paper adds that "the target of terrorist attacks has moved from other cities to Beijing for the first time, reflecting an enlargement in 'Xinjiang independence' terrorist acts".
US surveillance
Meanwhile, academics and experts criticise the US after a report published in an international magazine suggested that Washington's surveillance net may have reached Chinese people.
Foreign Ministry spokeswoman Hua Chunying said cyber security was "a matter of sovereignty" and Beijing will take the necessary measures to safeguard its information security, the China Daily reports.
Li Haidong, a researcher of American studies at China Foreign Affairs University, told the paper that "the listening posts in major Chinese cities infringe on citizens' privacy as well as political and economic security".
"Instead of seeking communication and co-operation on cyber security, the US further fuels suspicion and distrust between the two countries through these eavesdropping activities," Li said.
Shi Yinhong, a senior expert on US studies at Renmin University of China, said "it is not news that the US flaunts itself as a 'defender of the law' and constantly points fingers at other countries, including China".
Also in domestic news, the State Council has made public "draft amendments to the Food Safety Law that seek harsher punishment for offenders and stronger oversight of food companies and local governments", the Global Times says.
On baby foods, the draft asks manufacturers to report raw materials, ingredients and labels of their products to food safety administrations.
China has witnessed many high-profile cases of food contamination in the past few months.
BBC Monitoring reports and analyses news from TV, radio, web and print media around the world. For more reports from BBC Monitoring, click here. You can follow BBC Monitoring on Twitter and Facebook.