China media: Territorial dispute with Japan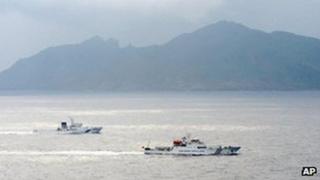 Japan's strong stand over the East China Sea dispute will further harm bilateral ties, Chinese papers say, adding that Tokyo must think about bilateral trade before escalating tensions.
Japan's defence minister Itsunori Onodera on Tuesday said China's behaviour over disputed East China Sea islands was jeopardising peace.
Rhetoric has risen in recent days, with Japan reporting increased activity from China around the islands known as Senkaku in Japan and Diaoyu in China.
China Daily says: "Since Shinzo Abe became Japanese prime minister for the second time, relations between China and Japan have gone from bad to worse, and this is having a far-reaching impact on trade between the two countries".
"While trade data by country show Japan remains the second-largest trading partner of China after the United States, it is likely to be replaced by South Korea if relations continue to sour… For the sake of its economy, it's high time for Mr Abe to take measures to improve Japan's ties with China," it adds.
Xinhua news agency says: "Mr Abe's words and deeds show that his so-called act to safeguard regional peace and security is only a selfish act to seek hegemony in East Asia".
Zhang Tuosheng, director of the research department at the China Foundation for International and Strategic Studies, told China Daily's US edition that Tokyo has been "obsessed in a bid for the leadership of the region".
Wu Huaizhong, director of the Japanese politics department at the Chinese Academy of Social Sciences, tells the paper that "Japan's doomsday thinking is outdated and sensationalistic".
The Global Times and People's Daily also took a similar stance, accusing Japan of deliberately provoking China.
A commentary in the Global Times says: "Japan has continuously shamelessly released extreme information to gain China's attention".
"Both sides are sticking to their own hardline stance… while preparing for the worst case scenario of an outbreak of military conflict," it adds.
"Japan is a huge test of China's rise, it can be a roadblock or a booster, but by no means is it the final test. We should treat Japanese provocation as experience, turning conflicts into driving forces, and turning challenges into opportunities, to facilitate the rise of China," People's Daily says.
Meanwhile, Chinese media continue to give low-key coverage to Monday's Tiananmen Square crash incident.
'Warning' to journalists
State media criticise detained New Express reporter Chen Yongzhou for "fabricating facts" in a series of articles he wrote about construction equipment maker Zoomlion.
New Express had earlier defended Mr Chen and called for his release in its front-page appeals.
But the paper's parent company has now launched an investigation after Mr Chen apparently confessed on state-run broadcaster CCTV that he fabricated stories for money.
"In a statement published on the front page of its Tuesday edition, the Guangzhou-based Yangcheng Evening News Group said it will dispatch investigators to its subsidiary newspaper New Express to question the management," the Global Times says.
China Daily says: "although an entire legal procedure is needed before Mr Chen's case is clarified, this incident should function as a warning to all journalists".
"Those who accept bribes to write stories are bad apples that should be driven out of the profession," it adds.
Also in domestic news, Chinese media call for more stringent export policies from New Zealand as dairy giant Fonterra releases a report on recommended improvements.
The results of an internal inquiry at the company were released in a 163-page report recently which made 33 recommendations for improvements at the dairy giant.
Fonterra had announced a precautionary recall of some of its products in seven countries, including China and New Zealand, in August after fears of botulism.
Further testing, however, showed the bacterium present in some of its products was harmless.
Xinhua news agency says: "while the inquiry found technical failings that led to what was undoubtedly contamination, although nothing as serious as botulism, much of the debacle that followed seems to have been chiefly attributable to the traceability problem and bad communication".
"New Zealand produce sells for premium prices in overseas markets, and consumers want to know if there is any substance to the trustworthy reputation that they pay for," it adds.
BBC Monitoring reports and analyses news from TV, radio, web and print media around the world. For more reports from BBC Monitoring, click here. You can follow BBC Monitoring on Twitter and Facebook.