Land deal stand-off continues in China village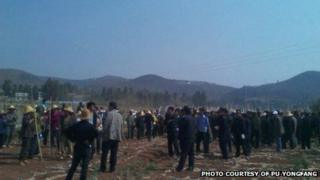 A stand-off is continuing a tiny hamlet in China's southern Yunnan province following a violent confrontation between villagers and police last week.
A few hundred residents of Guangji are surrounded by police eager to arrest those involved in the clashes.
Forty-four villagers and 27 police were hurt in the clashes, which began when police tried to arrest two villagers.
Wang Zhengrong, 69, and his son, Wang Chunyun are leading the village fight against a land deal.
The villagers are fighting to save their farm land from provincial developers who are building a $3.6bn dollar tourist attraction on the site.
Hundreds of people were involved in last week's battle, in which police used tear gas and unidentified explosives to subdue the villagers, who fought back with hoes, sickles and shoulder poles.
"Now the villagers are afraid that the government will come up with excuses to put us in jail. In most government land grab cases, lots of activists who want to protect their own land just disappear in the end," said Pu Yongfang, a village leader.
Mr Pu and the Wangs have spent months educating other people in the village about their legal rights to the farm land, making them prime targets for the police.
Elderly residents are able to pass the police lines to leave and return to the village at will, but younger generations who were involved in the altercation are afraid to pass by the police, villagers say.
Guangji is a 30-minute drive south of Yunnan's capital, Kunming. Twelve villages shared the farm land that is earmarked for the province's new "Ancient City" project, a vast recreation of traditional Chinese buildings dating back to Yunnan's ancient Dian Kingdom, which began in the 4th Century BC.
The project, which has high-level support from Yunnan's Communist Party leaders, is slated to cover approximately 20,000 acres, say the villagers.
Half of that land has already been claimed by the project's developers. The people in Guangji are fighting to protect 4000 acres of land that lies closest to their homes, while nearby villages are pitching in to try to save the rest. They too, have seen their share of violent confrontations with the authorities in recent months.
For now, the villagers face a difficult dilemma: stay in the village without access to medical care, or leave the village and risk arrest.