China newspaper apologises over Chen Yongzhou reports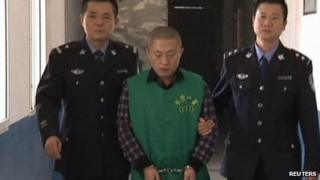 A Chinese newspaper, which made front-page appeals for the release of one its journalists, has issued an apology.
The Guangdong-based New Express said a preliminary police investigation found that Chen Yongzhou had accepted money to publish numerous false reports.
He was arrested over claims he defamed a partly state-owned firm in articles exposing alleged corruption.
The paper's front-page apology came after the journalist confessed to wrongdoing on state TV.
"I'm willing to admit my guilt and to show repentance," Mr Chen said in a statement broadcast on Saturday.
'Harming trust'
The New Express had previously backed him with unusually bold front-page appeals for his release.
But in a statement on Sunday's front page, it said it had failed to properly check his reports.
"This newspaper was not strict enough about thoroughly fact-checking the draft of the report," it said.
"After the incident occurred the newspaper took inappropriate measures, seriously harming the public trust of the media."
It promised to better ensure that its reporters and editors "comply with professional journalistic ethics and regulations".
The turn-around came one day after Mr Chen appeared on state television in a green prison uniform to confess to writing false stories for money.
Several high-profile suspects have made televised confessions recently.
Experts say confessions are still routinely coerced, despite a change in the law earlier this year banning the authorities from forcing anyone to incriminate themselves.
Mr Chen wrote several articles for the New Express alleging financial irregularities at a construction-equipment company called Zoomlion. The company denies the allegations.
"In this case I've caused damages to Zoomlion and also the whole news media industry and its ability to earn the public's trust," he told state broadcaster CCTV.
"I did this mainly because I hankered after money and fame. I've been used. I've realised my wrongdoing."
State media said he had confessed to taking bribes, but did not report who might have paid the bribes.
His case attracted huge attention after the New Express twice used its front page to call for his release.
Media monitoring group China Digital Times reported that the Communist Party's propaganda department had barred newspapers from reporting the story.
But many newspapers have continued to cover it.
China's newspaper industry is tightly controlled by a system of local censors carrying out party directives.