Beijing's Forbidden City restaurant brawl: Two dead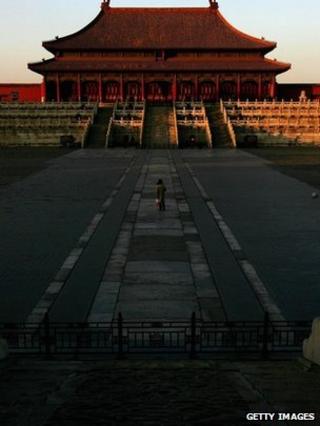 Two employees of Beijing's historical Forbidden City have been stabbed to death in a lunchtime brawl, Chinese police say.
Police have arrested a 49-year-old suspect in the attack at one of China's most popular tourist attractions.
They say the man, surnamed Zheng, was injured when found in an office nearby. He was taken to hospital.
Police described the incident as a brawl among employees inside a workers' canteen.
No tourists were injured.
Tight security
Security is already tight at the sprawling site - where ornate halls once housed China's emperors, their wives, concubines and offspring - as well as on nearby Tiananmen Square.
Guards at airport-style checkpoints are on the lookout for sharp objects and cigarette lighters, the latter following a rash of self-immolations by Tibetan protesters in recent months.
The Forbidden City, which was built in the early 1400s and is made up of more than 980 buildings, is a Unesco world heritage site drawing an estimated 14 million visitors a year.
Knife attacks are becoming more common in Chinese cities, often as a violent expression of frustration against authority. But violence at major tourist sites is rare.
During the 2008 Beijing Olympics, an American businessman was killed and his wife and a tour guide badly injured in a knife attack near the city's Drum Tower.