China paper in second front page plea over journalist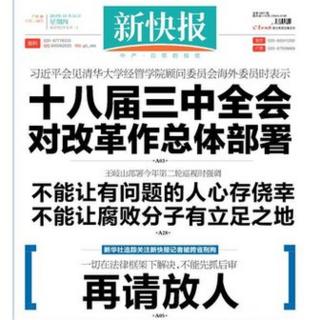 A Chinese newspaper has published a front-page plea - for the second time in two days - for the release of one of its journalists held by police.
The New Express again called for Chen Yongzhou to be freed.
Mr Chen was taken away by police after he wrote about a part state-owned construction equipment company.
In a rare move, China's publishing regulator has also voiced its concern over his detention.
The New Express, based in the southern city Guangzhou, published on the bottom of its front page a large four-character headline that read: "Again: Please Release Him."
On Tuesday, the paper filled its front page with a three-character headline that read "Please Release Him."
The paper also accompanied the second day's plea with a call to resolve matters under the rule of law.
"[Police] cannot take way people first and question them later," the paper said.
Correspondents say the paper's move is rare and bold at a time when the government is tightening control over the media and the internet.
Meanwhile, China's publishing regulator, the General Association of Press and Publishing (GAPP), has voiced its concern over Mr Chen's detention.
GAPP "resolutely supports the news media conducting normal interviewing and reporting activities and resolutely protects journalists' normal and legal rights to interview," the China Press and Publishing Journal said, citing a GAPP official.
"At the same time, it resolutely opposes any abuse of the right to conduct interviews," said the journal which is overseen by GAPP.
The article said the association was paying "close attention" to the matter.
Strict state control
Earlier this year, Mr Chen wrote several reports about Zoomlion, which is partly owned by the Hunan provincial government.
Zoomlion issued a statement after one New Express article, which alleged it had improperly accounted for sales, caused its share price to drop.
In a statement to the Hong Kong stock exchange in late May, the company called the claims "false, groundless and misleading".
Like all Chinese newspapers, the New Express comes under strict state control, but it has nonetheless gained a reputation for investigative journalism, says the BBC's John Sudworth in Shanghai.
Recent years have seen sporadic clashes between Chinese media outlets and the authorities.
In January, journalists at the Guangdong-based Southern Weekly newspaper called for a propaganda chief to quit, after he changed an editorial into a Communist Party tribute.
The row sparked small protests and displays of solidarity from other media outlets before the issue was resolved.