China Yangtze River yields American WWII bomber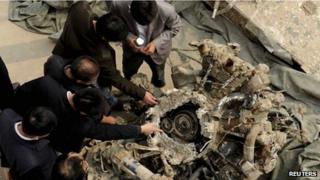 The wreckage of a plane discovered by fishermen in China's Yangtze River has been brought to the surface and identified as a World War II bomber.
Four fishermen searching for crabs discovered the wreckage last week.
It took two days to salvage the plane from the river.
A US scholar says the plane was a B-25 bomber from the "Flying Tiger" squadrons, a special unit of US military pilots tasked with training Chinese pilots in air combat.
The undercarriage, engine and fuselage were all brought to the surface, still bearing the "North American Aviation" engraving and with a plate inscribed with the serial number and date of manufacture - 15 February 1943.
Clandestine operation
The US scholar, identified in Chinese media as Patrick Lucas - a descendant of a US air force pilot - identified the plane from photographs as a B-25 bomber. Mr Lucas was said to have travelled to the region six years ago to try to find evidence of the crash site but was unsuccessful.
The Flying Tigers came out of a clandestine operation authorised by then-US President Franklin Roosevelt to train Chinese pilots.
The American Volunteer Group, as they were officially called, began their training over Burma in 1941 with 43 fighter planes and 84 pilots; by the end of the war they had been incorporated into a regular US air force unit of more than 700 planes, fighting against Japanese forces over Burma and China.
One of the fishermen to discover the wreckage, Ma Jinbin, told the Anhui Business News newspaper that their nets frequently snagged underwater at the crash site, leading them to investigate the cause.