China media: Indian PM's visit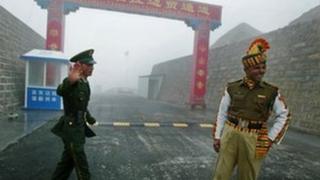 Chinese media play down border and trade tensions, and welcome Indian, Russian and Mongolian leaders to Beijing on Tuesday.
Indian Prime Minister Manmohan Singh, Russian Prime Minister Dmitri Medvedev, and Mongolian Prime Minister Norov Altankhuyag have started their visits amid heightened diplomatic activity in Beijing.
China's state media are highlight upcoming trade and economic co-operation deals, while calling for more efforts to address lingering geopolitical and trade tensions.
The People's Daily Overseas Edition says China may have resolved "historical grievances" with its three neighbours, but weak economic and trade ties with India and Russia, and a long-running border dispute with India, remain.
Rivalry over Central Asia with Russia, Delhi's concerns over Beijing's close ties with Pakistan as well as the US and Japan's diplomatic overtures to Mongolia are other sources of tension, the newspaper adds.
Mr Singh, however, seems to be getting prominent and positive coverage in the media with China Central Television addressing him as the "father of India's economic reforms".
Xinhua news agency credits the Indian PM with improving long-strained ties with China.
Some experts tell the China Daily that they are upbeat about Mr Singh's visit achieving progress on a border defence agreement, an economic corridor linking China with India, Bangladesh and Burma (Myanmar), as well as Chinese-invested industrial zones in India.
Du Youkang, director of South Asian Studies at Shanghai's Fudan University, says a China-India border management agreement will clarify the military's exact role in dealing with stand-offs along the disputed Line of Actual Control, a de facto border.
In April and May, the Indian military accused Chinese soldiers of crossing the Line of Actual Control in the Himalayan Depsang Valley. Beijing, however, asserted that its troops had been on the correct side of the line.
"The new agreement will provide better clarity on what military commanders should do when incidents like Depsang occur," Prof Du tells Hong Kong's South China Morning Post.
However, few details of the border deal have been revealed in the official Chinese media.
Some media outlets say more efforts are needed to boost people-to-people contact and business ties.
Mao Siwei, a former Chinese consul-general in Calcutta, tells the South China Morning Post that the Chinese tend to be more preoccupied with high-profile rape cases or train accidents in India despite warming political relations between the two countries.
"Chinese people are more eager to know about Japan, Europe and the US because they believe they can learn something from them. For India, it is lagging behind China, and so people here do not care about it much," he says.
Ye Hailin, a South Asia expert at the state-run Chinese Academy of Social Sciences think-tank, tells CCTV that local politicking by Indian state governments turns Chinese investment and trade into a "double-edged sword" for the ruling Congress Party.
Japan tensions
Meanwhile, the Global Times says "outsiders" are exaggerating the impact of both the US pivot to Asia and maritime territorial disputes with neighbours on China.
"Some have made a comparison between China's diplomatic achievements onshore with 'besiegement' at sea by the US and Japan. However, China, Russia and India are not heading on a path towards 'building an alliance'. China's maritime situation is also not as bad as some people have analysed," the newspaper says.
"The Philippines is not worth mentioning, so Japan has become the biggest trouble from the sea. However, Japan does not have the ability to fully challenge China," it adds.
The dismissive comment follows unconfirmed Japanese media reports that Tokyo plans to shoot down foreign drones that invade its airspace if warnings to leave are ignored.
Kyodo news agency says the plan is in response to a Chinese military drone that intruded into Japan's "air defence identification zone" near the disputed East China Sea islands in September.
"If Japan misjudges the situation and dares to take the desperate risk of using force against China, it will inevitably suffer an unbearable blow, bearing responsibility for all consequences," warns the Wen Wei Po, a Beijing-backed Hong Kong daily.
In other news, disgraced former Chongqing party secretary Bo Xilai will appear in court on Friday to hear the outcome of his appeal against his conviction for bribery, embezzlement and abuse of power and sentence to life imprisonment.
The Shandong Provincial Higher People's Court says the hearing in Jinan city will be "open", but has provided no further details, Xinhua news agency reports.
Tong Zhiwei, a professor at the East China University of Political Science and Law, tells the Global Times that the province's higher court is likely to uphold a previous verdict made by the Jinan Intermediate People's Court last month.
BBC Monitoring reports and analyses news from TV, radio, web and print media around the world. For more reports from BBC Monitoring, click here. You can follow BBC Monitoring on Twitter and Facebook.