Hong Kong Television Network: Protest over licence ruling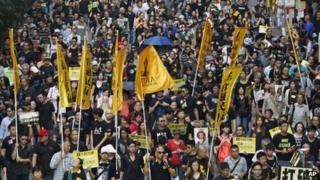 Thousands of people have taken to the streets of Hong Kong to protest against what they see as a lack of government transparency and accountability.
Police put the turnout at 20,000, while organisers said 120,000 were there.
The controversy was sparked last week when the government declined to grant a free-to-air licence to Hong Kong Television Network.
Critics of the government have urged officials to give a clear account of why the licence was refused.
Organiser Kristine Chan, from Hong Kong Free TV Action, told the Associated Press: "People are feeling very angry about this event, that the government is not really giving us many choices of free TV and trying to monopolise the industry by limiting the licences."
Lawrence Lau, a Hong Kong citizen taking part in the protest, said: "They don't have the resolve to make a fair decision. They always suppress Hong Kong people and try to favour the government in Beijing."
A spokesman for the city's Commerce Bureau has said the content of discussions made during meetings of the Executive Council were, as a rule, not made public.