Hillary Clinton: Chen Guangcheng crisis 'touch-and-go'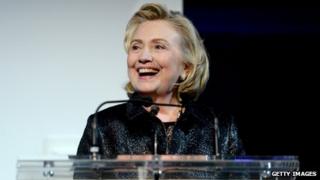 Former US Secretary of State Hillary Clinton has revealed details about two unprecedented incidents that threatened US-China ties in 2012.
Speaking in London, Mrs Clinton called the flight of Wang Lijun, police chief to politician Bo Xilai, to the US consulate "a dangerous situation".
She also discussed the diplomatic manoeuvres behind securing dissident Chen Guangcheng's passage to the US.
Mrs Clinton described the crisis over the blind lawyer as "touch-and-go".
The former top diplomat made her comments at Chatham House, a think-tank in London, on 11 October.
'Very discreet'
Wang Lijun was formerly police chief to the now-disgraced ex-Chongqing Communist Party boss, Bo Xilai.
Wang fled to the US consulate in Chengdu in February 2012, where he made allegations about the role of Bo's wife, Gu Kailai, in the death of British businessman Neil Heywood.
When Wang Lijun showed up at the US consulate, "he did not fit any of the categories for the United States giving him asylum," said Mrs Clinton, according to a transcript.
"He had a record of corruption, of thuggishness, brutality. He was an enforcer for Bo Xilai."
The consulate was quickly surrounded by police officers loyal to Bo, Mrs Clinton said. "So it was becoming a very dangerous situation."
However, Wang "kept saying that he wanted to get the truth to Beijing," Mrs Clinton said. "So we said: We can arrange that. So indeed that's what we did."
"We were very discreet about it and did not try to embarrass anybody involved in it, but tried to handle it in a very professional manner, which I think we accomplished."
Bo's wife was subsequently convicted of Mr Heywood's murder, and Bo was recently convicted of bribery, corruption and abuse of power. Wang was also jailed for 15 years for his involvement.
Diplomatic tensions
Mrs Clinton also said she made the call to shelter blind dissident Chen Guangcheng in the US embassy in Beijing.
Mr Chen, a campaigner against forced abortions, escaped house arrest in April 2012, a week before annual high profile US-China talks in Beijing.
"I get called late, late one night about Chen," Mrs Clinton said. "Of course, we knew of his courageous history of dissident activity."
"I was very well aware that this would be an issue in the relationship, but I also believed that this was an example of American values in practice."
"So lots of back and forth, as you can imagine, and then I finally just made the call. I said: We're going to send our people out to go pick him up."
She described what followed as "a very touch-and-go situation".
Mr Chen initially opted to stay in China, but then said he wanted to leave the US after learning about threats made to his family - hours after leaving his refuge at the embassy.
Ms Clinton said: "I had to go to State Councillor Dai Bingguo and I had to say: This is in your interests and it's in our interests, and there's got to be a way we can work this out."
"His first response was: We never want to talk about this man again with anybody. We can't go back into negotiations."
Ms Clinton added that she agreed to requests not to discuss Chen Guangcheng in her meetings with then-leaders Hu Jintao and Wen Jiabao.
"They said: Please don't mention this to them, we will try to work this out. So I didn't, and we had very formal, very predictable kinds of meetings," she said.
Mr Chen was eventually allowed to travel to the US to study.
Ms Clinton also said that building relations and understanding with China was an important process.
"I came to believe that the Chinese... believed that somewhere in Washington there is a master plan about what we intend to do to try to control their rise."
"They have never understood the jazz-like quality of American government and democracy."