Transformers director Michael Bay attacked in Hong Kong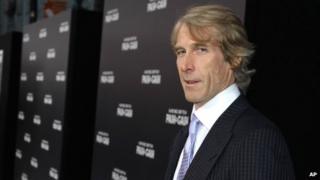 American film director Michael Bay has been injured in an attack in Hong Kong while filming on the set of his latest Transformers film.
Two men have been arrested on suspicion of blackmail and assault after they demanded money from the film crew, police have said.
Mr Bay, 48, received injuries to the right side of his face.
But he declined to seek treatment and continued filming in a busy area of Hong Kong island.
A local newspaper in Hong Kong reported that three men caused what it called "a huge disturbance" to the filming of the American science-fiction film.
It said that the men could have missed out on disturbance fees which the film crew paid to shop and business owners whose businesses were likely to be affected during filming.
The two men approached Mr Bay on the set during filming, a police spokeswoman told Reuters.
One of them demanded payment of HK$100,000 ($13,000; £8,000).
As the discussion continued, the man assaulted Mr Bay and also attacked three police officers who tried to intervene, police say.
The officers received treatment at hospital for minor injuries.
Police also arrested a third man at the scene.
There has been no comment from Mr Bay or his crew on the incident.
The fourth instalment of the Transformers franchise starring Mark Wahlberg and Nicola Peltz is scheduled for public release in June 2014.
Hong Kong's striking Victoria Harbour is believed to be among the film's locations, along with the city's dense and bustling streets.