China media: US aircraft carrier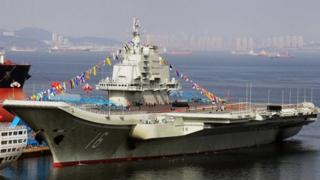 China needs to upgrade its military strength, papers say, as the US starts testing its latest aircraft carrier.
The US Navy conducted float tests of the USS Gerald R. Ford on 11 October and its sea trials are likely to begin in 2016, reports say.
"USS Ford is bound to pose a huge impact on the existing Chinese naval equipment," Chen Hu, executive editor of a Chinese military magazine, told the Wen Wei Po, adding that the "Chinese aircraft carrier technology is currently 30 years behind that of the US".
"Ford is a substantial leap forward in US military's combat capabilities at sea," Yi Zhuo, a Chinese naval expert, tells the paper.
Xinhua news agency says "a gap does exist between China's aircraft carrier compared to the USS Ford aircraft carrier".
"On the topic of carriers itself, the Chinese navy is a 'latecomer', our first combat aircraft carrier is still in the process of formation, and the United States has entered a very mature stage as the world's largest aircraft carrier manufacturer and user. America is constantly upgrading the latest aircraft technology threshold," it adds.
The Huanqiu Shibao, a newspaper affiliated with The People's Daily group, says "the USS Ford was successfully floated on 11 October in Newport News, Virginia shipyard" and" is regarded as the world's most powerful aircraft carrier".
"As the first of a new generation of aircraft carriers, USS Ford is unmatched whether in terms of overall technology or scale... USS Ford will be the benchmark for the Chinese pursuit of aircraft carrier technology," it adds.
The paper further says: "China must upgrade its capabilities based on existing equipment, develop strategic thinking and an effective tactical plan to deal with the US military... For only by constantly enhancing our own strength, will we achieve a new type of China-US relations."
Iran talks
Meanwhile, newspapers say the P5+1 group, made up of Britain, China, France, Russia and the US plus Germany, will take time to resolve Iran's nuclear issue.
The group is due to start a fresh round of talks with Tehran on Tuesday.
The People's Daily says "China has always taken an objective, impartial and responsible position" on Iran's nuclear issue.
"[But] a peaceful solution to the Iranian nuclear issue is still facing great difficulties. It takes time to eliminate hostility between Iran and the West and gradually build up mutual trust," it adds.
A historic phone call between US President Barack Obama and Iranian President Hassan Rouhani was the highlight of the recent UN General Assembly session, The Global Times notes.
"The positive significance of the historical phone conversation is that both presidents can discuss nuclear issues under a broader framework based on the fragile trust that has just been established, providing a new impetus for resolving the problem," the paper comments.
However, it adds that it is "too early to celebrate".
"There are still important points of instability, and there is a long way to go from discussing nuclear issues to bilateral reconciliation. Unless the US can take a more serious attitude to Iran and accept Iran's growth and important role within the region, its focus on specific issues will still stand in the way of improving the bilateral relationship," it says.
Also, in international news, Xinhua reports that a new bridge will link China and North Korea by 2014 and greatly boost exchange and trade between the two countries.
"The new facility will be able to handle as many as 20,000 vehicles and 50,000 people a day and Dandong (border city) authorities expect that businesses done at the trade complex will account for 60% of China-North Korea trade," the agency adds.
BBC Monitoring reports and analyses news from TV, radio, web and print media around the world. For more reports from BBC Monitoring, click here. You can follow BBC Monitoring on Twitter and Facebook.