British brands take on the Chinese market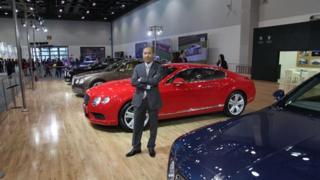 British companies attempting to enter the Chinese market are doing everything they can to attract Chinese consumers. Luxury car brands like Rolls Royce and Jaguar extol the romance and tradition of cars that are manufactured in the UK.
And, of course, British dairies tout the fragrant benefits of their cheeses.
One salesman at the Great British Brands Festival, a consumer fair , attempted to lure curious Chinese onlookers at a shopping mall in western Beijing by shouting about his products, in Chinese, no less.
The festival coincides with a week-long trade visit to China by British Finance Minister George Osborne.
But the push to conquer the Chinese market has been going on for decades.
Household consumption accounts for just a third of China's economy, but as disposable incomes rise across the country, domestic spending will inevitably rise. In China's cities, the average disposable income per capita has soared 30% since 2010.
In short, Chinese people have more money in their wallets than ever before, and UK companies are eager to snap it up.
'We're British'
But is it possible for British brands to lure Chinese customers, simply because they are British?
Probably not, says Tom Doctoroff, CEO of J Walter Thompson's Asia Pacific operations. He believes most Chinese consumers do not have an image in their heads of what is specifically British about most companies hailing from the UK.
"It's not enough to just come in and say, 'We're British,' because 'We're British' will just be interpreted as 'We're not Chinese' and there are a lot of not-Chinese brands out there," he explains.
"I don't buy a lot of British brands, but I do drink Twining's tea. I've heard of Jaguar and Burberry, but these brands are a bit too expensive for me," admitted one male customer wandering around the fair.
Most Chinese consumers will only shell out for a famous foreign brand if they feel the item's quality or reputation will justify its sky-high price tag.
Across the city, at the Luxpo, an annual exhibition of high-end brands held at China's National Convention Centre, two British carmakers, Rolls Royce and Bentley, faced off against each other in their efforts to attract new buyers.
"This is a pure British product, which is quite important for our customers. It's not a mixture of things from other countries," explains Raymond Leung, general manager of Bentley's Beijing showroom.
However, competition with other brands is stiff. Most visitors to the exhibition strolled past the UK brands in order to snap photos of the neighbouring Lamborghinis and BMWs.
"Very few international brands compete directly with local brands," explains Tom Doctoroff.
While British brands band together to tout their UK credentials, they would need to keep a wary eye on other foreign competitors, who are also setting up in an increasingly crowded Chinese marketplace.