China media: Vietnam ties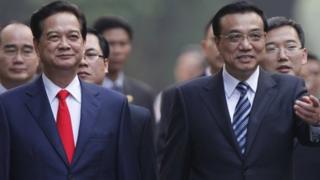 Media see Premier Li Keqiang's meeting with his Vietnamese counterpart Nguyen Tan Dung as a "breakthrough" in solving the South China Sea disputes.
"China and Vietnam will establish a bilateral working group to discuss joint maritime development, a move analysts say is a 'breakthrough' for the neighbours to peacefully handle disputes," says the China Daily.
"Seeking a solution to maritime disputes has been a 'major headache' in the past few years for not only China but also for some Asean members such as Vietnam and the Philippines," Jia Duqiang, a South East Asian studies expert at the Chinese Academy of Social Sciences, told the paper.
"Hanoi has already realised that it is unrealistic to count on Washington to give public support to its claims on some islands," Jia adds.
The Global Times says: "Premier Li has called on the two sides to refrain from unilateral moves that would escalate or internationalise the South China Sea issue and cause unnecessary troubles in bilateral co-operation".
"China is Vietnam's largest trade partner and China has increased investment on infrastructure construction in Vietnam...The two countries will further underscore the co-operation and play down maritime frictions," Wu Shicun, head of the National Institute of South China Sea Studies, tells the China Daily.
Media also back Mr Li's call for improving ties with Taiwan after a cross-strait peace meeting ended in Shanghai on Saturday.
"Both sides must overcome political differences in order to move forward. We need to let the mainstream Taiwanese community recognise that the most realistic way for Taiwan is to narrow its gaps in politics with the mainland. To follow this trend meets the interests of the vast majority of people in Taiwan," The Global Times comments.
Visa change praised
Meanwhile, newspapers report on British Chancellor George Osborne's visit, but haven't published editorials and commentaries.
Netizens, however, are reacting positively to Mr Osborne's announcement that visa applications for Chinese visitors entering the UK will be simplified.
Under the plan, Chinese nationals visiting the EU will not need to submit separate UK visa applications if they book with selected travel agents.
Some users of the Twitter-like weibo say they are glad that they can now visit all European countries using one visa and will not mind adding the UK to their planned European tour.
Other users comment on the signing of new trade agreements between China and the UK.
"I have predicted a long time ago that no country in the world will let go the huge Chinese market," one netizen commented on weibo.
And finally, media report on the plight of the elderly on the day of Chong Yang Festival, or the Double Ninth Festival, which is a traditional Chinese holiday to honour and respect elders.
The People's Daily says the aging of the population "has become an increasingly serious problem".
The Beijing Times quoted a survey indicating 40.7% of the elderly still rely on family support and 40% consider themselves a burden on their family.
The paper adds it is not a problem for the elderly to view themselves as a burden to their families, but it is a huge problem if their families feel so. It adds that media reports of elderly people having nowhere to live due to the lack of care from their families are not rare.
BBC Monitoring reports and analyses news from TV, radio, web and print media around the world. For more reports from BBC Monitoring, click here. You can follow BBC Monitoring on Twitter and Facebook.