China media: Bo Xilai's appeal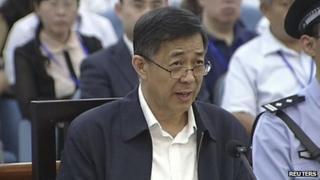 Media discuss convicted politician Bo Xilai's future after a court on Wednesday agreed to consider his appeal.
The former Chongqing party leader was convicted of bribery, embezzlement and abuse of power last month and jailed for life. He denied the charges at his trial.
"Since Bo had denied all charges in the first trial, authorities will not give him a chance to perform [again]. Regarding the outcome of the appeal, no one thinks that there is any possibility that the verdict could be overturned," Hong Kong's Apple Daily quoted an analyst as saying.
The paper adds that such verdicts are rarely overturned.
Ruan Qilin, professor at China University of Political Science and Law, tells Hong Kong paper Sing Pao that the possibility of Bo getting any leniency depends on the grounds of his appeal.
Wang Minyuan, a law professor with the Chinese Academy of Social Sciences, says Bo's case is likely to finish this year and "the final ruling will not be heavier than the current one".
"The court of second instance should conclude the case in two months after it accepted the appeal, but it can be extended for another two months under special circumstances with approval from the Supreme People's Court," the China Daily quotes him as saying.
Turning to international news, newspapers say China's turbulent relations with Japan, and the US involvement in the region, will not affect Beijing's trade ties with Asean countries.
"There is deep and traditional friendship between China and South East Asian countries that is difficult to be swayed by external forces. Although there are sea disputes between China and Asean countries, Chinese leaders' visits to the region showed that relations were not affected by the disputes and the US Asia pivot strategy," Zhu Zhenming, a deputy director of the South East Asia Research Institute, tells the Global Times.
Hong Kong's Wen Wei Po says "China will actively strengthen political and economic co-operation with Asean countries in all fields in order to resolve disputes arising from conflicts over the South China Sea … to break US attempts to contain China economically by drawing on other South East Asian countries."
Hospital quota
Meanwhile, there has been an outcry in the media after a regional government order in the central province of Henan made "mental illness quotas" mandatory in hospitals.
The Southern Metropolis Daily reports that Zhengzhou city's health department has asked doctors to identify at least two patients suffering from mental illness out of every 1,000 residents.
The Beijing News says "the absurdity of the situation can be seen" in this case.
"Doctors are falsely claiming people have severe mental health problems in order to meet quotas and avoid being penalised by their bosses, says the Shanghai Daily.
"If they fail to register enough patients, doctors are deducted marks in health authority assessments and placed under supervision... some community doctors top up numbers by including people with less serious mental health issues and conditions such as cerebral palsy and autism," it adds.
The Beijing News says such "quotas" are not uncommon in China, adding "case-solving quotas", "birth quotas" and "cremation quotas" are already well known.
And finally, netizens are outraged over an official's claims that pollution in the country is caused by cooking at home.
The Beijing Youth reports that a Beijing official recently told reporters that the Chinese way of cooking (using coal-fired gas heating) contributes "quite substantially" to air pollution.
One netizen mocked that the government should introduce a lottery system for determining when residents can cook at home or eat out at restaurants, The Global Times reports.
BBC Monitoring reports and analyses news from TV, radio, web and print media around the world. For more reports from BBC Monitoring, click here. You can follow BBC Monitoring on Twitter and Facebook.