China media: US shutdown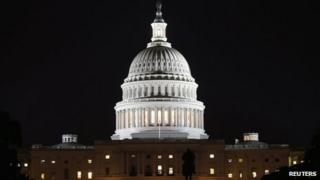 Chinese media express concern that the partial shutdown of the US government will have a serious impact on the global economy.
"The world is not unfamiliar with America's arrogance. It is this arrogance that led to the US decision to bypass the United Nations and launch a war in Iraq. It is the same arrogance that often lets America use its domestic policy to kidnap the global economy," The People's Daily says.
The paper adds that the shutdown is only adding more uncertainties to a volatile global market.
"After all, the volume and influence of the US economy are unusual. If a gigantic economic entity chooses to look for trouble, it will only add new elements of uncertainty and instability to the world economy, and erect more severe challenges for its full recovery and healthy growth," it says.
State-run Xinhua news agency also feels the US shutdown has the potential to make global financial markets more volatile this week.
Shen Dingli, a professor at China's Fudan University, feels "the US partial shutdown could become a recurrent theme".
"It can be predicted that this time the US government shutdown will not last for too long, but bipartisan political struggles on Obama's healthcare reform will continue in the long-term, signifying that the next shutdown is not too far," it says.
Meanwhile, papers and experts support President Xi Jinping's call to bolster China's co-operation with other Asia-Pacific Economic Co-operation (Apec) member nations.
"To build the Asia infrastructure investment bank or a relevant specific fund, funding can be provided by governments, entrepreneurs and financial institutions from Apec members, and China could contribute a relatively large part to the fund," the China Daily quotes Fan Bi, a senior researcher at the China Centre for International Economic Exchanges, as saying.
The People's Daily says "China and the Asean have the responsibility to work together to expand co-operation and eliminate interference and properly handle differences".
Online rumours
In domestic news, some experts are defending a police crackdown on online rumours in China's north-western Xinjiang region.
At least 110 people were detained and 164 received a warning for spreading online rumours between 26 June to 31 August, state media reports.
Xinjiang is home to the minority Muslim Uighur group and has seen sporadic clashes in recent years.
"The penetration of religious extremism in China has led to increased attacks in Xinjiang, so the spread of such information must be curbed," Ma Pinyan, an anti-terrorism researcher at the Xinjiang Academy of Social Sciences, tells the China Daily.
Uighur activists, however, say the government is using online rumours as an excuse to arrest those who use online forums to express their dissatisfaction with the government.
In Hong Kong, the media are livid over Philippine President Benigno Aquino's reluctance to apologise for the 2010 Manila bus siege, in which eight Hong Kong tourists were killed.
"Chief Executive of Hong Kong CY Leung raised the issue of the hostage crisis in a meeting with Philippine President Aquino, but the latter refused to apologise, saying only it was 'regretful'", the Ta Kung Pao reports.
"If the hostage incident is not unresolved, not only is it difficult for Hong Kong-Philippine relations to get back on track, it is also a thorn in the overall relationship between China and the Philippines," the Ming Pao says in an editorial.
And finally, newspapers are criticising the practice of naming restaurants and buildings after foreign cities.
"The phenomenon of abusing foreign place names exists in many cities across the country. Unreasonable and unjustified foreign names such as 'Manhattan', 'Venice', 'California 1885' are everywhere", the People's Daily reports, adding such copycat acts are a "farce".
"It seems a foreign name can enhance the stylishness or trendiness of a city in the eyes of some urban designers…. But in the chase of foreign names, it is not only easy to lose oneself, but also reflects a laziness in thinking and a lack of confidence in one's own culture," it says.
BBC Monitoring reports and analyses news from TV, radio, web and print media around the world. For more reports from BBC Monitoring, click here. You can follow BBC Monitoring on Twitter and Facebook.