China media: Ties with Taiwan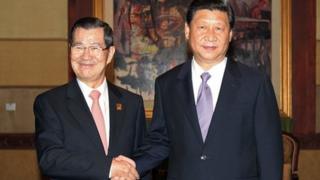 Chinese media are supporting President Xi Jinping's stated desire to improve bilateral relations with Taiwan.
"Political disputes between the Chinese mainland and Taiwan could be gradually and eventually resolved... We cannot hand those problems down from generation to generation," Mr Xi said on the sidelines of the Asia-Pacific Economic Co-operation (Apec) forum in Indonesia on Sunday.
"The concept that both sides of the Straits are of one family should be advocated," Mr Xi said, adding that the two sides must strengthen communication and co-operation.
Mr Xi advocated strong ties with Taiwan during a meeting with Vincent Siew, honorary chairman of the Taiwan-based Cross-Straits Common Market Foundation, in the Indonesian resort island of Bali, the China Daily reports.
The South China Morning Post says "many in Beijing see political talks as the next step towards eventual reunification between the mainland and Taiwan".
"A series of economic and cultural pacts negotiated by Taiwanese President Ma Ying-jeou have helped make ties between Beijing and Taipei the strongest they have been since the civil war. But the prospect of political talks with the Communist Party remains controversial in democratically-ruled Taiwan," the paper adds.
Hong Kong's Wen Wei Po too highlights the significance of such political talks.
The paper notes that apart from strengthening economic and trade co-operation, consolidating and deepening of the political foundations is particularly important in the development of cross-strait relations.
Meanwhile, the China Radio International highlights the importance of the Apec summit.
"Apec has played an important role in promoting regional trade and investment, deepening regional economic integration. It has become an engine of global economic growth," it says.
Manila bus siege
Meanwhile, Hong Kong press are expressing anger after some of their journalists had their Apec media passes revoked by the organisers for asking questions about the 2010 Manila bus siege.
Eight Hong Kong tourists were killed in 2010 during a bus siege in Manila.
According to Apply Daily, the journalists asked Philippine President Benigno Aquino whether he would meet Hong Kong Chief Executive CY Leung on the sidelines or apologise to the families of the Manila hostage victims.
Moving on to domestic news, the Beijing Youth Daily criticises Chinese tourists' "uncivilised behaviour" during the week-long National Holiday.
The paper says tourists ignored signs like "do not touch" and "left garbage" at important sites and that, too, "with no trace of shame". It notices that Chinese tourists are normally more considerate and polite when they are abroad.
The Guangzhou Daily says people have to think about ways to ensure tourists behave better during national holidays.
BBC Monitoring reports and analyses news from TV, radio, web and print media around the world. For more reports from BBC Monitoring, click here. You can follow BBC Monitoring on Twitter and Facebook.