China media: Focus on Asean ties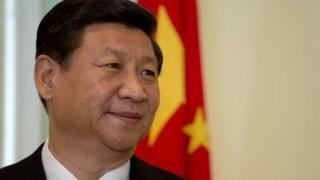 China's official media are backing President Xi Jinping's vision of forging closer economic ties with South-east Asia, while playing down territorial tensions.
Mr Xi outlined China's positive policy towards the 10-member Association of South-east Nations (Asean) in his historic speech to Indonesia's parliament.
This is his first trip to South-east Asia since taking office, he became the first foreign leader on Thursday to address Indonesia's parliament.
A commentary in Xinhua news agency highlights Mr Xi's call for China and Asean to build a "community of common destiny". It also emphasises his offer to set up an Asian development bank to build a new "maritime Silk Road" connected by cross-border infrastructure.
"What China's development brings to Asia and the world is development opportunities rather than threats," it says.
Hong Kong's South China Morning Post believes that Mr Xi's emphasis on investment initiatives for Asean and subtle calls to resolve territorial disputes with neighbours through "friendly consultations" is aimed at "mending regional ties overshadowed by recent tension involving the South China Sea".
The newspaper notes that Indonesia has often rejected Beijing's territorial claims in most of the South China Sea. Jakarta has also pushed for South China Sea disputes with China to be discussed at Asean meetings.
Since Indonesia is highly influential as the largest country in Asean, one academic believes that China's diplomatic charm offensive with Jakarta can help it to successfully negotiate territorial disputes with the South-east Asian bloc.
"If China and Asean countries can reach a consensus on the South China Sea, the troublemakers on the South China Sea issue - the Philippines and Japan - will be unable to exploit opportunities. It will also be difficult for the US to intervene in the South China Sea issue," Li Jinming, a professor of South-east Asian Studies at Xiamen University, tells Hong Kong's Wen Wei Po.
'Code of conduct'
Beijing recently started to engage in talks with Asean on forming a code of conduct for territorial disputes. However, no substantial agreements have been reached yet. For many years, China insisted on resolving disputes bilaterally rather than through multi-lateral platforms.
In his speech, Mr Xi also called on Asean and China to welcome unnamed external countries "playing a constructive role in the region's development and stability". He urged unnamed external countries to do more to help the region's stability.
One mainland expert says Mr Xi is delivering a message to the US to not destabilise the region by getting involved in China's territorial disputes with neighbours.
"Countries outside the region should not try to sow discord and split relations between China and Asean. Vigilance is needed against this," Ruan Zongze, vice-president of the China Institute of International Studies, a foreign ministry-affiliated think-tank, tells The Beijing News.
In recent months, Beijing has also spoken out strongly against Manila's bid to bring its long-standing territorial disputes over South China Sea islands and reefs with China to an international court.
"Recent years have seen the Philippines stirring up the South China Sea situation with its attempt to internationalise claims on some of the islands," notes the China Daily.
After his visit to Indonesia, Mr Xi arrived in Kuala Lumpur on Thursday on a state visit.
Luo Yongkun, a researcher with China Institutes of Contemporary International Relations, a state-run think-tank, says Malaysia's growing connectivity with China through joint industrial parks, logistics and shipping can serve as a model for China-Asean co-operation.
"Geographically, China-Malaysia connectivity will facilitate the construction of China-Asean maritime connectivity and help establish closer relations between China and Asean countries, forming the bedrock of the establishment of the China-Asean maritime partnership," Mr Luo writes in the China Daily.
He also praises Malaysia for "keeping calm" and shelving territorial disputes in the South China Sea in favour of economic co-operation with China.
And finally, the South China Morning Post believes that US President Barack Obama's cancellation of upcoming trips to South-east Asia because of a partial shutdown of the US government "unwittingly shows weakness" in its contest with China for influence over the region.
"America's troubles give a sense to outsiders that its political system is flawed, and standing up regional leaders suggests its foreign policy is broken. Obama's much-vaunted pivot to Asia is said to be about counter-balancing China's rising might. Events this week seem to show China stealing a march," its editorial concludes.
BBC Monitoring reports and analyses news from TV, radio, web and print media around the world. For more reports from BBC Monitoring, click here. You can follow BBC Monitoring on Twitter and Facebook.