China media: US government shutdown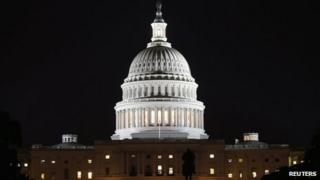 Chinese media are criticising the US government's partial shutdown while expressing concerns over Washington's potential default on its debts.
The official Xinhua news agency says the shutdown has exposed "the ugly side of partisan politics in Washington".
Media commentators also fear that Washington may default on payments if the Democrats and Republicans fail to agree to lift the $16.7tn debt ceiling by 17 October.
"What is more worrisome is a looming battle over lifting the debt ceiling... In view of the latest political failure, a replay of the 2011 summer drama seems likely," Xinhua says.
In 2011, the Republicans and Democrats had failed to reach a deal on raising the debt ceiling of the US government in time, which led to a downgrading of the US's credit rating and turmoil in international markets.
Xinhua adds that US foreign creditors, including China which is the largest holder of Washington's debts, are extremely worried over the gridlock.
"Perhaps the best we can hope for is that a shutdown now will calm Republican anger; and fearing a public backlash, the moderates will come to their senses and allow the debt ceiling to rise. Otherwise, the consequences - for the US and the world - are too dire to contemplate," says the South China Morning Post.
Meanwhile, the shutdown of federally-funded tourist attractions has disappointed many mainland tourists visiting the US.
"The US federal government's shutdown has had the biggest impact on Chinese tourists... The US government should compensate us... Travel agencies will not give compensation because this is classed as a force majeure," Ms Wang, a tourist from Shanghai who booked a tour to Washington DC, tells Xinhua.
Tourism chaos
Moving on to domestic news, the media are dismayed at further cases of "uncivilised" tourism despite the government strengthening laws to stop unruly behaviour during the week-long National Day holidays that started on Monday.
A China Central Television report complains about tourists urinating in public, climbing up on ancient monuments and leaving heaps of rubbish at important sites.
The report shows tourists touching a piece of rare ebony wood despite it having a "do not touch" sign at a museum in the south-western city of Chengdu.
The Beijing News reports that people have left graffiti at major tourist sights such as the Forbidden City, Temple of Heaven, the old and new Summer Palaces and the Great Wall.
Xinhua also uncovers graffiti scrawled on walls and on bamboo trees at the former residence of Communist China's first premier, Zhou Enlai, in Huai'an in eastern Jiangsu province.
And in Thailand, the Southern Metropolis Daily says tourists ignored "no photos" and "no touching" signs in Chinese at a temple in Pattaya and posed for photos while sitting on ancient statues.
Other tourists were seen littering and queue-jumping and disrespecting clothing rules at the Royal Palace in Bangkok, it adds.
Meanwhile, the Beijing News reports that about 2 million people are employed by the central government to collect the views and attitudes of internet users and to "guide public opinion".
These people, who some have called "cyber spies", are officially known as "internet public opinion analysts".
And finally, Nanfang Daily and many other news outlets are congratulating Guangzhou Evergrande's 4-1 win over Japan's Kashiwa Reysol in the first-leg of the semi-finals of the AFC Champions League.
"This is a dream-come-true moment for Chinese football," comments Guangzhou's Nanfang Daily.
However, the team's coach, Marcello Lippi, who led Italy to World Cup victory in 2006, strikes a cautious tone.
"I don't think we have got [a place in the final] yet... You never know what will happen next in football. Reysol have ability and were a tough side to play this time," the South China Morning Post quotes him as saying.
BBC Monitoring reports and analyses news from TV, radio, web and print media around the world. For more reports from BBC Monitoring, click here. You can follow BBC Monitoring on Twitter and Facebook.