China activist Chen Guangcheng to join US think-tank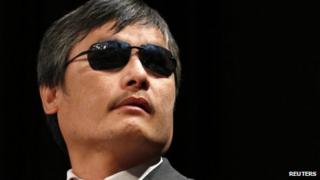 Blind Chinese dissident Chen Guangcheng is set to join the Witherspoon Institute, a US think-tank, as a distinguished fellow.
The institute will provide Mr Chen with financial support, reports say.
The high-profile activist was a fellow at New York University from mid-2012 until earlier this year.
He caused a diplomatic flurry last year when he fled house arrest and went to the US embassy in Beijing. He was later allowed to go to the US.
The Witherspoon Institute describes itself as "an independent research centre that works to enhance public understanding of the moral foundations of free and democratic societies".
It also says that it is committed to "liberal education and republican government". It is opposed to abortion and same-sex marriage.
"We are taking the responsibility for the financial side and a home really where he can do his work," Luis Tellez, president of the institute, told Reuters news agency in an interview.
Mr Chen would become a distinguished fellow in human rights at the institute, and would also be affiliated with the Catholic University of America and the Lantos Foundation for Human Rights and Justice, Mr Tellez added.
Mr Chen had said in June that his departure from NYU was due to "unrelenting pressure" from Beijing - something NYU denied.
NYU said at the time that Mr Chen's fellowship had always been expected to last a year at most, to help Mr Chen and his family make the transition to a more permanent position in the US.
Mr Chen arrived in the US in mid-2012.
The self-taught lawyer had campaigned against forced abortions under China's one-child policy, but was jailed for four years in 2006 for disrupting traffic and damaging property.
He was placed under house arrest after his release in 2010, until his high-profile escape in April 2012.