China activist Cao Shunli 'disappears', says rights group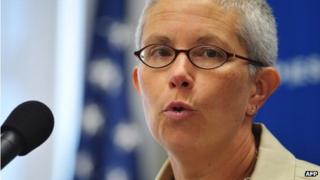 A well-known legal rights activist in China has seemingly disappeared after being questioned by Beijing airport police, a rights group says.
Cao Shunli has not been seen since 14 September, when she was barred from boarding a flight to Switzerland, Human Rights Watch (HRW) says.
Ms Cao had been planning to attend a UN human rights training course in Geneva.
Ms Cao has advocated for the right of petitioners to contribute to China's human rights reports.
One of Ms Cao's close associates confirmed to the BBC that Ms Cao had not been seen in weeks.
A number of other activists had been stopped at the airport and denied permission to travel to Geneva, but Ms Cao was the only one whose whereabouts remain unknown, HRW said.
"The president and member countries of the Human Rights Council should speak out against China's systematic suppression of activists trying to take part in these human rights reviews," Sophie Richardson, China director at HRW, said.
"China's actions are eroding the integrity of the UN's top human rights review process," Ms Richardson added.
Ms Cao has served at least two terms in Chinese labour camps as a result of her activism.
Ms Cao's work is particularly timely now, as China's human rights record is up for review by the UN Human Rights Council on 22 October, the BBC's Celia Hatton in Beijing reports.
Beijing is hoping to win a seat on the council, our correspondent adds.