China media discuss Bo Xilai's sentence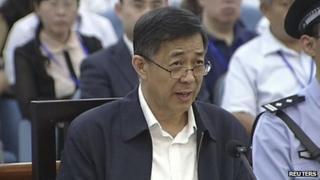 China's state media praise disgraced politician Bo Xilai's sentencing as a victory against corruption, while Hong Kong papers see the trial as part of a factional struggle among the ruling elite in the Communist Party.
Bo, the former party chief of Chongqing, has been sentenced to life imprisonment for taking bribes worth 20.4m yuan (£2m; $3.3m), 15 years for embezzling 5m yuan (£510,000; $817,000) and seven years for abuse of power.
He had denied all the charges against him.
Official media in mainland China are defending the sentencing of Bo, saying that the case shows the Communist Party will not hesitate in going after top officials in its fight against corruption.
"The resolute punishment of Bo Xilai according to law has fully shown that there are no exceptions in the face of party discipline and state laws. No matter who is involved, they will be investigated in the end and punished according to law," says a widely republished commentary by the People's Daily.
"The Bo Xilai case is a very loud and clear alarm bell. The determination and confidence of the central authorities to counter corruption according to law is unwavering. All kinds of suspicions should be laid to rest," adds the Global Times.
However, over in Hong Kong, the Apple Daily is sceptical about the openness of the trial.
"It is merely self-deception to expect that Bo's life imprisonment sentence can deter other corrupt officials... As for the Jinan Intermediate People's Court live microblog of the first-instance trial of the Bo case, it was far less complete and authentic than the televised public trial of the 'Gang of Four' in 1980," it says.
The Gang of Four rose to prominence during the Cultural Revolution (1966-76) and their televised trial featured Mao Zedong's late wife, Jiang Qing, protesting defiantly against her treason charges.
'A scapegoat'
Some newspapers and commentators also believe that Bo may have been made a scapegoat in a political purge to rid the party leadership of potential rivals and end an internal rift over the country's future direction.
"The power of the current top leadership is still not consolidated enough, so they used the heaviest sentence to punish Bo Xilai. This negative effect of this may be quite big. People may think this was not tolerant enough or even not magnanimous enough," Zhang Lifan, a political affairs analyst in Beijing, told Hong Kong broadcaster TVB on Sunday.
"The severe punishment was due to Bo's refusal to admit to the charges against him. The top authorities were certainly not happy about that... It serves to manifest [the leadership's] determination and also ensures Bo won't get out during their tenure," Zhang Ming, a political science professor with Beijing's Renmin University, tells the South China Morning Post.
The South China Morning Post also links Bo's downfall with unconfirmed reports of a corruption probe into Zhou Yongkang, a former Politburo leader and executive of the state-run China National Petroleum Corp.
"The new leaders apparently intended to use Bo's trial as a sign of determination to fight corruption. They have since endorsed an investigation into Bo ally Zhou Yongkang... It is the first time a current or former member of the Politburo Standing Committee has been probed for economic crimes," says the newspaper.
Hong Kong's Ming Pao believes that Bo's political life is over, even if he is widely tipped to lodge an appeal within 10 days of the trial.
"Despite being well aware that an appeal will be futile and that a second-instance trial will certainly reject this and uphold the original sentence, Bo Xilai must do so because it has a bearing on his face and image," predicted the Ming Pao on Sunday.
"There is a lot of speculation on the street over whether Bo Xilai will reverse his verdict one day... This is the subjective hope of certain people and it is neither realistic nor possible... This major drama of Bo Xilai is about to close. Although it is an important event in the history of the Communist Party of China, it will soon disappear into the long course of history," adds Hong Kong journalist Yuen Kee-wang in the Ming Pao.
BBC Monitoring reports and analyses news from TV, radio, web and print media around the world. For more reports from BBC Monitoring, click here. You can follow BBC Monitoring on Twitter and Facebook.