China media: Bo Xilai verdict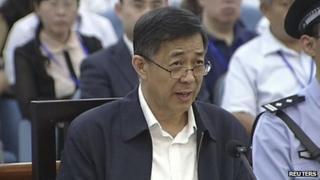 The upcoming verdict in the case of disgraced former top politician Bo Xilai is dominating the Hong Kong media, while mainland papers discuss the sentencing of a mother over the death of her children.
The Jinan Intermediate People's Court in eastern China announced on Wednesday that it will deliver a verdict on former Chongqing party secretary Bo Xilai's corruption case at 10:00 local time (06:00 GMT) on Sunday.
A letter allegedly written by Mr Bo to his family is at the centre of discussion in Hong Kong's media. Unidentified insiders with close ties to the Bo family have confirmed to Hong Kong's South China Morning Post that a defiant letter allegedly written by Mr Bo to his family is genuine.
Earlier this week, Boxun News Network, an overseas-based dissident Chinese news website, published the letter allegedly sent to Mr Bo's relatives, dated 12 September.
In the letter, Mr Bo thanks his relatives for attending his corruption trial in August."This is truly an injustice, but someday this will be cleared up. I will quietly wait in prison. Dad sat in prison several times in his life. I will follow his example!"
Mr Bo's late father, Bo Yibo, an influential Communist Party elder, was jailed at least twice and persecuted during the Cultural Revolution (1966-76) before returning to power in the late 1970s.
Speculation over Mr Bo's sentence is also growing in the Hong Kong press.
Wang Yukai, a professor at Beijing's National Academy of Governance, a civil service training school, tells Ta Kung Pao, a Beijing-backed Hong Kong daily, that Mr Bo is likely to be sentenced to 20 years in prison, and that the expected maximum sentence will be life imprisonment.
In other news, there has been an outpouring of sympathy in many newspapers for a 22-year-old drug addict mother whose two girls starved to death after being left alone at home with the door and windows blocked, in the eastern city of Nanjing.
At a trial on Wednesday, the mother, Yue Yan, was sentenced to life imprisonment for intentional homicide. She escaped the death penalty because she is pregnant.
"The last time before leaving, I left three to five days' worth of food and a pot of water with the children. I had originally intended to go out for two or three days, but ultimately I could not resist the temptation of drugs and online games and stayed outside," Yue Yan is quoted by the Beijing Times as saying.
The Beijing News expresses sympathy for Yue Yan, who was herself born to unmarried parents and left in the care of her grandparents.
Many newspapers say the authorities should have intervened earlier as neighbours had already raised concerns about Yue Yan locking the girls unattended in a bedroom for days while she took drugs outside.
Despite supporting the sentencing of Yue Yan, the Guangzhou Daily criticises the authorities for "indifference" and failing to intervene sooner in families with children left uncared for by their parents.
"Minors without care or suitable care, such as the children of drug addicts and prisoners, are not uncommon and are a huge social group... Yue Yan's unborn child will soon face the problem of having no supervised care when it is born," says a commentary in the Beijing Youth Daily.
'Bigger role in Syria'
Turning to international news, the official Xinhua news agency welcomes talks between Chinese President Xi Jinping and visiting Jordanian King Abdullah II, highlighting the king's call for China to play a bigger role in resolving the Syrian crisis and the Israeli-Palestinian peace process.
Meanwhile, the Southern Metropolis Daily says a man has been arrested on suspicion of injuring Zong Qinghou, founder of China's beverage giant Hangzhou Wahaha Group and one of China's richest men, in a knife attack in the eastern city of Hangzhou last Friday.
Police said the suspect, 49, an unemployed man surnamed Yang, sought out Mr Zong near his home and asked him for a job.
He then allegedly attacked Mr Zou with a knife when his request was turned down. Mr Zong reportedly suffered severe injuries to his left hand.
The China Youth Daily expresses disbelief at how 45 county authorities in nine provinces and municipalities managed to "misappropriate" more than 1.6bn yuan (£162m; $261m) in "social support fees" or fines on families who break the one-child policy by having more than one child.
The "social support fee" is supposed to provide state revenue for resources and public services used by the child.
The Beijing News says a national audit uncovered that the county authorities misreported the number of extra children born, failed to collect the fees, and undercharged or overcharged fines.
BBC Monitoring reports and analyses news from TV, radio, web and print media around the world. For more reports from BBC Monitoring, click here. You can follow BBC Monitoring on Twitter and Facebook.