China court to issue Bo Xilai verdict on 22 September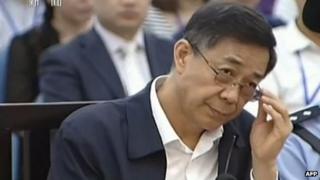 A Chinese court is to announce a verdict in the case of disgraced former top politician Bo Xilai on Sunday.
The former Chongqing Communist Party boss was tried last month. He denied abuse of power, corruption and bribery.
Mr Bo, 64, a former member of the politburo, was engulfed in a scandal which saw his wife convicted for the murder of a British businessman.
Observers say the court is expected to find him guilty and hand him a lengthy prison sentence.
"The Jinan Intermediate People's Court will openly announce its verdict on the Bo Xilai bribery, embezzlement and abuse of power case on September 22, 2013 at 10 am [02:00GMT]," the court said on its official Sina weibo account, the Chinese version of Twitter.
Mr Bo's trial in the city of Jinan in Shandong province ran for five days from 22 August.
Prosecutors accused Mr Bo of taking bribes from businessmen, either directly or via his wife and son. They also said he embezzled public funds from the city of Dalian where he used to be mayor.
The indictment also focused on the abuse of power charges and made the explicit link to the dramatic case of his wife, Gu Kailai, who was given a suspended death sentence last year for the murder of British businessman Neil Heywood.
Mr Bo's trial saw him mount a vigorous defence - he made lengthy comments in court, saying he did not illegally obtain millions of dollars or cover up the killing of Mr Heywood.
He also called his wife's testimony "insane" and that of his former police chief Wang Lijun "full of lies and fraud".
The scandal surrounding Mr Bo was triggered by the flight of Wang, who in February 2012 spent a day at the US consulate in Chengdu.
Wang, who has since been jailed for 15 years, triggered an investigation into the murder of Mr Heywood.
Mr Bo's trial offered the public a rare glimpse into the life of China's rich and powerful, with lurid details emerging of private vacations and luxury villas.
Prosecutors have demanded a heavy sentence for the former party boss.