China media: Japan anniversary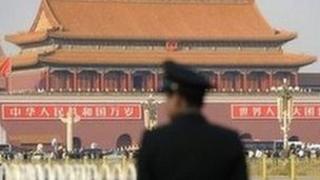 Beijing's official media outlets accuse Japan of "military expansion" as China marked a World War II anniversary.
A three-minute silence was held at 09.18 am local time to commemorate the anniversary of the beginning of Japan's invasion and occupation of north-eastern China.
On 18 September 1931 the Japanese army blew up dynamite near a railway station close to Mukden (now known as Shenyang city), using the blast as grounds for the occupation of Manchuria.
"At present, Japan is attempting to challenge the post-war international order by beautifying its history of aggression and promoting a series of moves to revise its peace constitution. Meanwhile, it is making frequent military moves and keeps showing toughness towards surrounding countries. Serious difficulties have arisen in Sino-Japanese relations," warns the China News Service.
The People's Daily, a Communist Party newspaper, accuses the Wall Street Journal and The Financial Times of slandering China's "patriotic education".
"Some doubts and even slander have come forth quietly... The subtext of such reports by the US' Wall Street Journal and the UK's Financial Times is that China should change perspective on historical propaganda, no longer engage in propaganda on its humiliating history and should keep up with the times. What absurd logic!" the newspaper adds.
Meanwhile, the Liberation Army Daily suspects that Japan's recent launch of its Epsilon rocket is a prelude to developing intercontinental ballistic missiles in future and urges vigilance against "Japan's increasingly apparent expansionist ambitions".
"The negative impact brought to China by the US' Asia-Pacific strategic adjustments and Japan's right-leaning path is becoming prominent," the People's Daily Overseas Edition adds.
Hong Kong's South China Morning Post says Beijing police on Tuesday detained a businessman-turned-whistleblower from southern Shenzhen on unknown charges, "in an escalating campaign against the vibrant online community of government critics and influential liberal opinion leaders".
The businessman, known as Huazong on social media, gained prominence in 2011 for blogging about government officials on modest salaries sporting luxury watches. Many of these officials were subsequently investigated, sacked or even jailed for corruption, including Yang Dacai, an official in rural Shaanxi who was seen on various occasions wearing different luxury watches.
The Global Times dismisses public concerns that Huazong's reported disappearance is linked with the recent detention and sentencing of outspoken bloggers and activists.
"It is true that government authorities are intensifying administration over the internet, and this is a necessary and justified effort. The connection between this crackdown campaign and the detentions and controls over these web celebrities is not what really matters. People's attention should be focused on whether they have violated the law. As long as the police actions are based on facts and laws, then these detentions and controls are justifiable," it says.
'Sex-tape scandal'
A court in Chongqing on Tuesday upheld a 13-year prison sentence against Lei Zhengfu, a former city official who was embroiled in a sex tape scandal that riveted the nation for months, The Beijing News reports.
Mr Lei was convicted in June of accepting bribes from a property developer to pay off a businessman who was allegedly trying to blackmail him with a secretly filmed "sex video" of Mr Lei and a woman. The woman was reportedly hired to lure Mr Lei in an extortion scam.
At another high-profile trial on Tuesday, The Beijing Times says Ji Zhongxing, a man charged with setting off a home-made bomb in the Beijing Capital International Airport in July, expressed remorse for the incident and said the device exploded accidentally.
Mr Ji, who lost his left hand in the blast, gave his testimony on stretcher. He insisted that he had not intended to harm others or commit suicide and only wanted to protest over an unresolved compensation dispute related to a fight with security guards which he alleges left him partially paralysed.
The court has not yet reached a verdict on the case.
And finally, the Xi'an Evening News rebukes a secondary school in Fuzhou in Fujian province for punishing students for "trouble-making" after they "voted democratically" to "impeach" their English teacher last Friday.
Many students raised their hands in support when one student hit the table and called on the students to vote to impeach the teacher, forcing the teacher to leave the classroom immediately, the newspaper says.
BBC Monitoring reports and analyses news from TV, radio, web and print media around the world. For more reports from BBC Monitoring, click here. You can follow BBC Monitoring on Twitter and Facebook.