China media: Detained bloggers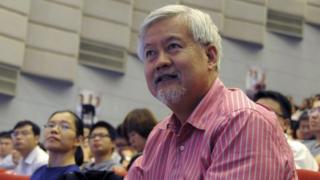 China's official media reject public criticism over detained bloggers and welcome a US-Russia deal on Syria.
State-run China Central Television on Sunday showed Charles Xue, a Chinese American businessman and a popular microblogger who is currently in detention, justifying more draconian government controls on the internet.
"If there are no restrictions on the internet, we would be going in reverse direction," the official Xinhua news agency quoted him as saying.
Mr Xue also told CCTV that his outspoken posts were fuelled by a following of 12 million fans on Sina Weibo, a Twitter-like microblog service.
"In the beginning, I wrote [each post] seriously," Mr Xue said on TV. "As time passed, I wasn't able to verify the authenticity of every post I re-posted.... After I became an opinion leader in the virtual world, I enjoyed the feeling of power... This most satisfied my vanity... I felt like a king."
Mr Xue was arrested several weeks ago for allegedly soliciting a prostitute in Beijing. However, his arrest coincides with a widening crackdown on "big Vs" - real-name microbloggers with a large fan base - on all kinds of charges such as "online rumour mongering" or simply venting anger at the authorities.
China's new guidelines suggest that internet users can be jailed for writing posts that spread rumours online, state media say.
The Global Times, a Beijing-based tabloid, hits back at a signature campaign to demand the release of Wang Gongquan, another prominent venture capitalist and blogger, who was detained on Friday by Beijing police for "disturbing public order".
"Unconditional support for Wang Gongquan is imprudent... Currently liberals are forcefully shaping a kind of public opinion: Whenever anyone among them is brought to court for any reason, it is official 'political persecution' against them... Even Xue Manzi's arrest for soliciting prostitutes is an official crackdown on 'free speech'," it says.
In international news, China's official media and think-tank experts welcome an agreement between Russia and the US on the disposal of Syria's chemical weapons but foresee huge difficulties in implementing the deal.
"Clouds of uncertainty, however, loom over the deal. And concerns regarding the upcoming implementation process persist... The two-faceted Syrian crisis, an ongoing civil war plus threats of foreign military intervention, suggests a bumpy road ahead when the agreement is to be carried out," the official Xinhua news agency commented yesterday.
The US and Russia reached an agreement on Saturday that Syria's chemical weapons must be destroyed or removed by mid-2014. The deal came after a series of meetings between US Secretary of State John Kerry and his Russian counterpart Sergei Lavrov in Geneva last week.
Legal dispute
Back in China, a media outcry has erupted over how an alleged legal dispute led to a Chinese luxury cruise liner being detained at a port on the South Korean island of Jeju on Friday, leaving thousands of passengers stuck on board over the weekend.
A South Korean court ordered the Henna not to leave Jeju after a request from Chinese firm Shagang Shipping, which is said to be in a legal dispute with the ship's operator, HNA Group.
The Southern Metropolis Daily says some angry passengers are demanding an explanation and have rejected the ship operator's compensation offer or a free ticket on the Henna for the coming year.
Meanwhile, another media controversy has broken out after Hong Kong's leader, CY Leung, said on Saturday that the city does not need help from Britain or other foreign governments on introducing universal suffrage and that foreign intervention could adversely affect political reform.
The rebuff came after the Ming Pao and the South China Morning Post on Saturday carried a commentary by Hugo Swire, a UK minister of state at the Foreign and Commonwealth Office. Mr Swire said that the people of Hong Kong should have a "genuine choice" in selecting their city's leader in 2017 and that Britain is ready to offer support.
"If you are now concerned about Hong Kong's democracy, why weren't you earlier? Hong Kong governors in the era of UK rule were appointed directly by the Queen, so when were the views of Hong Kong people ever heard?" the Beijing-based Global Times asks the British.
The Apple Daily, however, lambasts Mr Leung for rebuffing foreign governments weighing in on Hong Kong's fractious constitutional reform debate.
"If one day Britain, US and other countries turn a blind eye and deaf ear to the situation in Hong Kong and have no interest at all in the development of Hong Kong, this will be the end of Hong Kong," it says
BBC Monitoring reports and analyses news from TV, radio, web and print media around the world. For more reports from BBC Monitoring, click here. You can follow BBC Monitoring on Twitter and Facebook.