Xinjiang attack: China sentences three to death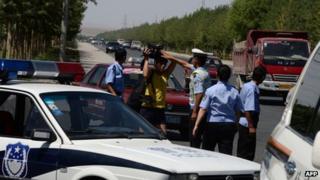 A Chinese court has sentenced three men to death over violence in Xinjiang that left 35 people dead, state media say.
The court called the violence on 26 June in Turpan's remote township of Lukqun, about 200km (120 miles) south-east of the region's capital, Urumqi, a "terrorist attack".
A mob armed with knives attacked police stations, leading police to open fire, state media said at the time.
A fourth man was jailed for 25 years for his involvement, reports said.
There are sporadic outbreaks of violence in Xinjiang, where there are ethnic tensions between Muslim Uighur and Han Chinese communities.
The court in China's western Xinjiang region gave Ahmatniyaz Sidiq, Urayim Eli and Abdulla Esrapil the death penalty, describing Ahmatniyaz Sidiq as the leader, state-run news agency Xinhua said.
The men "spread religious extremism" and "watched violence-inciting videos from foreign terrorist organisations", Xinhua said, citing the court.
State media reports at the time said 24 people were killed and 11 attackers.
Confirming reports from the region is difficult because information is tightly controlled. A BBC reporter who tried to visit Lukqun at the time was turned away at a police checkpoint.
Uighurs make up about 45% of Xinjiang's population, but say an influx of Han Chinese residents has marginalised their traditional culture.
Beijing authorities often blame violent incidents in Xinjiang on Uighur extremists seeking autonomy for the region. Uighur activists, meanwhile, accuse Beijing of over-exaggerating the threat to justify heavy-handed rule.
In 2009 almost 200 people - mostly Han Chinese - were killed after deadly rioting erupted in Urumqi between the Han Chinese and Uighur communities.