China media: Russia on Syria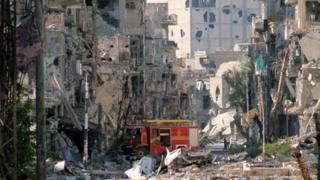 State media are backing Russia's proposal on putting Syria's chemical weapons under international control, while warning the US not to take military action.
US President Barack Obama's televised speech to the nation explaining US policy on Syrian President Bashar al-Assad's alleged use of chemical weapons on civilians was aired prominently on Sina and other news portals. Media reaction to the speech is expected to come later.
Instead, many leading state media are voicing support for Russia's proposal that the Syrian government places its chemical stockpiles under international observation and fully joins an international treaty prohibiting the use of chemical weapons.
"This latest development brings a glimmer of hope for preventing a worst-case scenario being staged on the issue of Syria, while also preventing the international relations system suffering a major impact. China welcomes and supports Russia's initiative," says the People's Daily, the Communist Party's top official newspaper.
"As there are signs that Bashar al-Assad's government might be willing to make concessions, the Obama administration should know denying international mediation a chance at this juncture would weaken its case for strikes even further. With little international support and the consequences of any military action unpredictable, acting alone would only reinforce the US' image as a warmonger," adds the China Daily.
Elsewhere, The Beijing News says China conducted its 59th patrol of disputed East China Sea islands known as the Senkaku in Japan and the Diaoyu in China since September 2012, when the Japanese government announced a plan to "purchase" part of the islands.
The patrols coincide with Beijing's warning to Tokyo not to station government workers on the islands, says the Global Times.
"Under the dual pressure of our diplomatic representations and maritime law enforcement, Japanese government boats have not dared to take overly-aggressive dangerous actions against our government enforcement vessels patrolling the waters of the Diaoyu Islands," The Beijing News adds.
'Naked official'
Turning to domestic news, the Chongqing Times and many other newspapers are blaming a "lust for money, status and sex" for the downfall of Zhang Shuguang, who was once hailed as the pioneer of China's high-speed railway network.
At a closely-watched trial in Beijing on Tuesday, Mr Zhang pleaded guilty to accepting 47m in bribes (£4.88m; $7.67m) from high-speed train suppliers between 2000 and 2011 when he was in charge of procurement at the now-defunct Ministry of Railways.
State media say Mr Zhang was a close aide of ex-railways minister Liu Zhijun, who was given a suspended death sentence for bribery and abuse of power in July.
At the trial Yang Jianyu, a former railway equipment supply firm boss, testified that he employed Mr Zhang's mistress on a monthly salary of 16,000 yuan and bought her a car and luxury watches "just to please" Mr Zhang, the Beijing Morning Post reports.
The Beijing Morning Post also notes that Mr Zhang was a high-profile "naked official" - a nickname for officials who stay in China but relocate their families abroad. In Mr Zhang's case, his wife and daughter are reportedly in the US.
A verdict in Mr Zhang's case will be announced at a later date.
And finally, authorities in Tengxian in southwest Guangxi are under fire after a media outcry over 30 local primary school pupils aged between four and 10 rowing a raft across a reservoir to go to a makeshift school.
The China Youth Daily, however, says the children may even risk their lives further or be forced to drop out of school after authorities bowed to public pressure and told them to stop rowing the raft.
"This is just a helpless expedient measure. Once the makeshift school is removed, parents and children will have to travel longer distances. Moreover, mountain roads are not necessarily safer than waterways. Their plight may be even worse and more difficult than before they started rowing a raft to go to school," it adds.
A similar dilemma faced village children following the deadly crash of an overcrowded nine-person van crammed with 60 kindergarten pupils in northwest Gansu in 2011. A subsequent ban on illegal school buses forced rural children to drop out of classes or ride even more dangerous tractors or tricycles to school, it adds.
BBC Monitoring reports and analyses news from TV, radio, web and print media around the world. For more reports from BBC Monitoring, click here. You can follow BBC Monitoring on Twitter and Facebook.